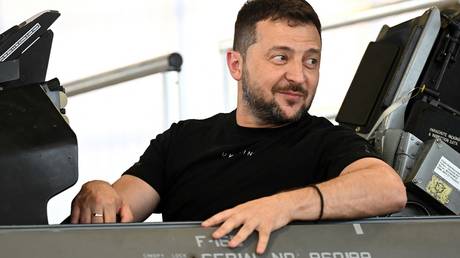 Russian air defenses are proving highly successful at downing Ukrainian planes, Defense Minister Sergey Shoigu said FILE PHOTO: Ukrainian President Vladimir Zelensky sits in an F-16 fighter jet in Vojens, Denmark. © Sergei GAPON / AFP
Russian air defenses showed a high rate of success in shooting down Ukrainian military aircraft last month, the Russian defense minister said on Wednesday. Sergey Shoigu claimed that if maintained, it would allow the entire fleet of F-16s, pledged to Kiev by Western donors, to be destroyed in less than three weeks.
Speaking at a ministerial meeting, the minister praised Russian forces for conducting over 1,400 successful intercepts in October. He said the figure included 37 Ukrainian planes, almost twice the number of F-16s that foreign nations intended to give to Kiev.
"If our air defense forces work this way, [the F16 fleet] amounts to roughly 20 days of work," he predicted.
The aircraft that Russian forces took down last month were predominantly Soviet-designed MiG-29s and Su-25s, according to the Defense Ministry. Shoigu previously claimed that Russian troops had been using "new complexes" to improve interceptions.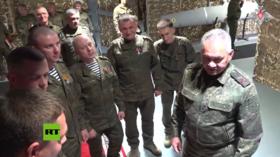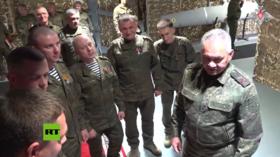 Read more
Ukrainian military getting weaker – Shoigu
A source cited by TASS has claimed that Russia has been using A-50 airborne radar planes to detect Ukrainian targets earlier and at lower altitudes. The hits were reportedly achieved by long-range anti-aircraft missiles fired from S-400 launchers, armed with new warheads and guided using data from airborne radars.
Ever since the start of the conflict with Moscow, Kiev has been pushing its allies to supply increasingly advanced weapons. Ukrainian pilots are currently being trained to fly F-16s.
The Netherlands, Denmark, Norway and Belgium have pledged to provide the fighter jets over the next few years, as part of their programs to transition to more modern military planes.
Dutch Prime Minister Mark Rutte announced on Monday that the first F-16s allocated by his government would arrive at a military base in Romania, where the training of Ukrainians is conducted, within two weeks.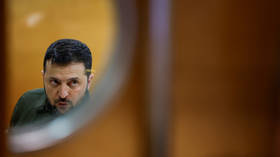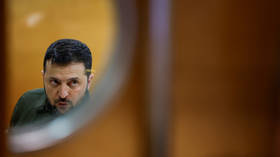 Read more
Aides believe Zelensky is 'delusional' – Time
Reports on the number of F-16 that Ukraine could get have been inconsistent. Ukrainian President Vladimir Zelensky claimed in August that he was promised 42 jets by The Netherlands and Belgium, but a joint statement by the donors did not mention any specific number. Rutte said at the time that his nation's entire F-16 fleet had 42 planes and that it would need to retain some for training purposes.
Kiev's supporters previously suggested that Western-designed weapons would become a gamechanger in the conflict, with their hopes pinned at various points on HIMARS multiple launch rocket systems, Storm Shadow cruise missiles, Leopard main battle tanks, and ATACMS tactical ballistic missiles. Zelensky praised the August F-16 pledge announcement as "historic, powerful, motivational."
The Kremlin has dismissed the notion, saying that the newly-supplied Western weapons "will burn like the rest of them". (RT)
Azərbaycan24 sosial şəbəkələrdə