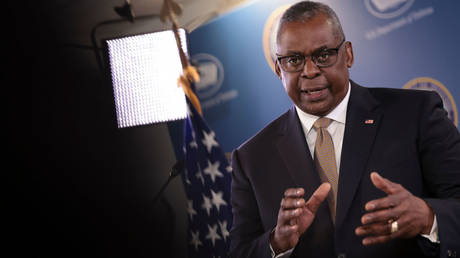 Secretary of Defense Lloyd Austin has cautioned that an incident could "spin out of control" because communication has broken down US Secretary of Defense Lloyd Austin speaks at a Pentagon press briefing last week in Arlington, Virginia. © Getty Images / Win McNamee
Pentagon chief Lloyd Austin has lamented a breakdown in US-Chinese defense relations, warning that the absence of communication between leaders of the two countries adds to the risk of an incident escalating into a more dangerous geopolitical conflict.
"You've heard me talk a number of times about the importance of countries with large, with significant capabilities being able to talk to each other so you can manage crises and prevent things from spiraling out of control unnecessarily," Austin told reporters on Thursday in Tokyo, following a meeting with Japanese Minister of Defense Yasukazu Hamada.
Austin made his comments two days after the US Indo-Pacific Command accused a Chinese pilot of nearly causing a midair collision by buzzing his fighter jet in front of an American reconnaissance plane last week over the South China Sea. Beijing blamed the US for the incident and demanded that Washington stop flying spy planes in the region, saying the flights are "dangerous provocations."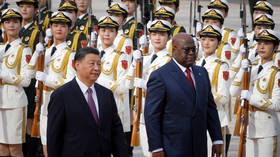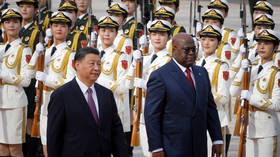 Austin warned that an inability to discuss such conflicts makes them more dangerous. "As we take a look at some of the things that China is doing in the international airspace in the region and international waterways – you know, the provocative intercepts of our aircraft and also our allies' aircraft – that's very concerning. And we would hope that they would alter their actions. But since they haven't yet, I'm concerned about, at some point, having an incident that could very, very quickly spiral out of control."
China cut off defense and climate ties with Washington last August, citing alleged meddling by US officials in Taiwan. Just this week, Beijing declined Washington's request for a meeting between Austin and his Chinese counterpart, Li Shangfu, on the sidelines of a security summit that's scheduled to begin on Friday in Singapore.
Asked about the decision, Chinese Foreign Ministry spokeswoman Mao Ning said US officials must "earnestly respect" China's sovereignty and security interests. Responsibility for ongoing tensions between the countries "lies entirely with the US side," she added.
Austin called the refusal to grant a meeting "unfortunate" and said he would "welcome any opportunity to engage" with Chinese leaders.
Chinese President Xi Jinping told his defense chiefs on Tuesday that they must prepare for "worst-case and extreme scenarios," as well as "choppy waters and even dangerous storms," because Beijing faces increasingly difficult and complex security challenges.
(RT)
Azərbaycan24 sosial şəbəkələrdə