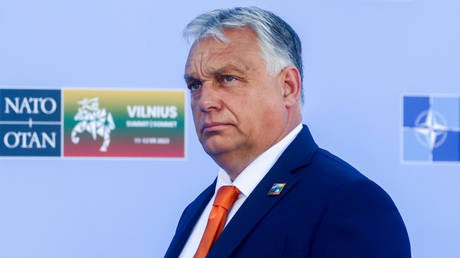 Washington has not explained to its allies why it wants hostilities with Russia to continue, Viktor Orban said FILE PHOTO: Hungarian Prime Minister Viktor Orban attends the NATO summit in Lithuania © Beata Zawrzel / NurPhoto via Getty Images
The US wants the conflict in Ukraine to continue and has failed to explain its reasons to NATO allies, Hungarian Prime Minister Viktor Orban has said.
He told a radio station that if Washington wished, it could stop the fighting at a moment's notice, as Kiev is fully dependent on the West in the fight against Russia.
The Hungarian leader was interviewed by Kossuth Radio on Friday morning, after returning from the NATO summit in the Lithuanian capital, Vilnius. During the event, the US-led military bloc declined to extend to Kiev a roadmap for membership. Hungary has stood out among members of the alliance by consistently criticizing Western policies on the Ukraine crisis.
"If the Americans wanted it, peace would come the next morning. Why Americans don't want that is a question that puzzles the entire world," Orban said. "We didn't get an answer at the NATO summit."
At this point, "Ukraine has lost any real sovereignty," Orban claimed, citing Kiev's devastated economy, and heavy dependence on Western allies for funding and weaponry.
Justifying its support for Ukraine, Washington has accused Russia of launching an "unprovoked war of aggression" against Kiev. US officials have said that inflicting a "strategic defeat" on Moscow is a primary goal.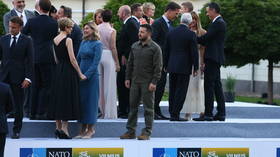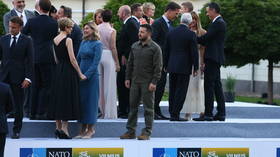 Read more
Zelensky responds to NATO demand for 'gratitude'
Moscow, in turn, has accused the US of triggering the crisis by ignoring Russia's long-running concerns over NATO expansion in Europe, while fostering a regime in Kiev that is hostile to Moscow. The Kremlin perceives the conflict as part of a US-led proxy war against Russia.
Orban went on to warn that if NATO were to admit Ukraine now, it would trigger a world war. He also highlighted the risks incurred by Western states sending increasingly sophisticated military hardware to Kiev.
The Hungarian leader also accused Kiev of using moral blackmail to receive Western support, but added that he does not blame Ukrainian President Vladimir Zelensky for acting the way he does, as he is "fighting for the survival of his people."
The prime minister predicted that the conflict will drag on, and EU nations – including Hungary – will bear the economic cost, including high inflation. (RT)
Azərbaycan24 sosial şəbəkələrdə