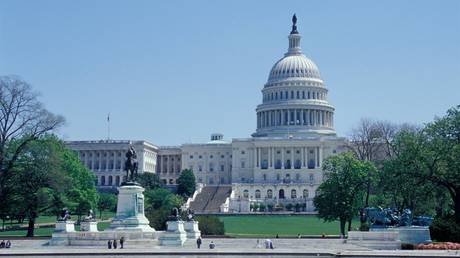 A group of lawmakers has called on Washington to put America's "vast arsenal" to "intended use," Foreign Policy has reported FILE PHOTO. © Global Look Press / Danita Delimont
Washington should supply Kiev with artillery-delivered cluster bombs, a group of US Congress representatives told President Joe Biden in a letter last week, Foreign Policy reported on Monday. The lawmakers urged the White House to put what they called America's "vast arsenal" of the highly controversial munitions to its "intended use."
Cluster bombs carry smaller explosive submunitions that are released in flight and scattered across a target area, typically used against personnel and lightly armored vehicles. According to Foreign Policy, the US-designed bombs, also known as dual-purpose improved conventional munitions (DPICMs), can penetrate four to eight inches (10 to 20 centimeters) of armor.
The munitions also have a tendency to leave behind undetonated 'duds' that can remain in former conflict zones for decades. This fact prompted more than 110 nations, including many NATO members, to ban cluster bombs under a UN convention back in 2008.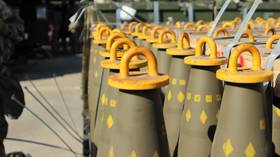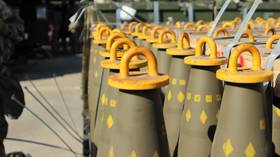 Read more
Cluster bombs 'useful' for Ukraine – Pentagon
The US did not join the convention but banned exports of cluster bombs with a 'dud' rate of more than 1% in 2009. The ban covered most of its existing stockpile. Now, the lawmakers, who are all members of the Congress Helsinki Commission, which monitors human rights in 57 OSCE nations, push for their transfer to Ukraine to be used in a conflict zone.
"During the Cold War, DPICMs were developed and fielded specifically to counter Russia's numerical and material superiority," the group, including the Helinski Commission head, Joe Wilson, wrote in the letter. "Now they can be put to their intended use in Ukraine's defense," they said, adding that it would serve US national security as well.
"Let us use this untapped, vast arsenal in service of Ukrainian victory, and reclaiming Europe's peace," the letter said.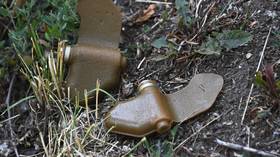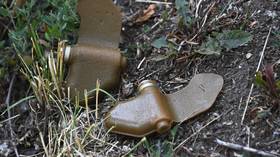 Read more
Russia warns US about cluster bombs
Kiev's troops already received DPICMs, which can be launched through the NATO-supplied 155mm artillery pieces, from other nations. Türkiye sent such munitions to Ukraine in January 2023.
The Pentagon has also recently spoken in favor of such deliveries. "Our military analysts have confirmed that DPICMs would be useful, especially against dug-in Russian positions on the battlefield," Laura Cooper, the Deputy Assistant Defense Secretary for Russia, Ukraine and Eurasia, said last week amid the ongoing Ukrainian offensive that had largely stalled without gaining much ground.
Moscow previously warned Washington against sending cluster bombs to Ukraine. Such actions would have consequences both for NATO's own security and the normalization of bilateral relations between Russia and the US, Russian Deputy Foreign Minister Sergey Ryabkov said in March.
Kiev has repeatedly asked the US for various cluster munitions. The Ukrainian troops wanted to get MK-20 cluster bombs, which they sought to drop on Russian forces from drones. The artillery cluster shells were also on its wish list.
So far, US officials have said they are not "actively considering" sending cluster bombs to Kiev. Yet, Biden can potentially waive the export restriction at any time. (RT)
Azərbaycan24 sosial şəbəkələrdə