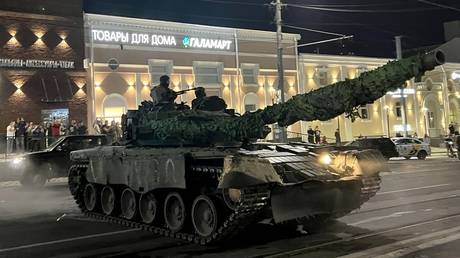 Policymakers in Washington reportedly think that Prigozhin's gambit will help Ukraine's counteroffensive Wagner fighters leaving the Russian city of Rostov-on-Don. © Sputnik
US officials believe that the Wagner PMC's insurrection in Russia will play into Ukraine's hands, allowing Kiev to revitalize its much-hyped counteroffensive which Moscow says has thus far failed to gain any ground, Politico reported on Saturday.
Shortly before the private military company's leader Evgeny Prigozhin agreed to halt his advance on Moscow and withdraw his troops as part of the deal brokered by Belarusian President Aleksandr Lukashenko, US officials held several meetings to assess the potential impact of the mutiny, the report says.
In the end, they reportedly arrived at the conclusion that the insurrection would keep the Kremlin busy, providing Ukraine's stalled counteroffensive with a window of opportunity.
"I don't see how it could hurt them," one senior official told Politico. Others opined that the development would likely help Kiev, pointing out that Prigozhin had taken control of the HQ of Russia's Southern Military District in the city of Rostov-on-Don. However, Wagner members have left the city on Saturday evening, according to local officials.
With Wagner drama unfolding in Russia, a US official told Politico that policymakers in Washington called their European counterparts, seeking to "reassure them" and tell them to "message neutrality." "No one should be spiking the football," he added.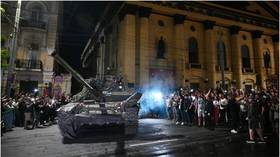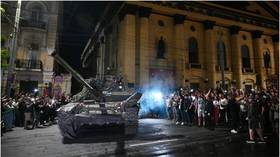 Read more
Main events in Russia's aborted Wagner revolt
According to Politico, the general consensus between Western officials was that Kiev now had "an unprecedented opportunity to advance." Some US lawmakers supported this point of view, with Democrat Congressman Jason Crow tweeting that the Wagner insurrection "will almost certainly benefit the Ukrainian counteroffensive in the near term and [Kiev] should move fast to capitalize."
In the early hours of Saturday, the Russian Defense Ministry said that Ukrainian troops were attempting to take advantage of Wagner insurrection by reading two brigades for an offensive thrust near the Donbass town of Artyomovsk (known as Bakhmut in Ukraine).
Later, however, it said that while Ukrainian forces tried to mount attacks along several sections of the front, all their attempts to breach Russian lines failed.
Ukraine's offensive, which had been talked up for months, finally kicked off in the early days of June but has so far failed to gain any ground, with Kiev's troops suffering heavy losses, according to Moscow. Ukrainian President Vladimir Zelensky has also admitted that Kiev's troops had been advancing "slower than desired" in the face of "tough resistance." (RT)
Azərbaycan24 sosial şəbəkələrdə