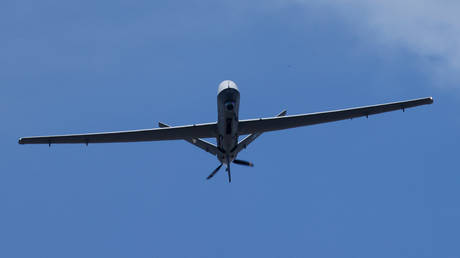 Debris from the US MQ-9 Reaper aircraft are still to be found at bottom of the Black Sea, according to a USAFE spokesperson FILE PHOTO: A General Atomics MQ-9 Reaper unmanned aerial vehicle drone performs a fly-over. © AFP / Ludovic Marin
The US MQ-9 Reaper drone, downed in the Black Sea near Russia's Crimea on Tuesday, hasn't been recovered yet, but doing so remains top of the agenda for the military, the US Air Forces in Europe (USAFE) has said.
"We take the protection and recovery of this aircraft very seriously, but the aircraft has not been recovered at this time," USAFE spokesperson said in a statement on Thursday to The Hill outlet.
The spokesperson declined to reveal specific details of the search operation, but said locating what's left of the $32-million UAV remained a "priority" for Washington.
Asked on Thursday if Russia itself would attempt to recover the American drone, Kremlin Press Secretary Dmitry Peskov said that if the Russian military "decides that it's necessary for our interests and the security… then they're going to do it."
Secretary of the Russian Security Council Nikolay Patrushev had earlier said Moscow would "surely try" to lift the UAV from the bottom of the Black Sea. Patrushev acknowledged that it'll be a rather difficult thing to pull off, but added that he still hoped for a successful outcome.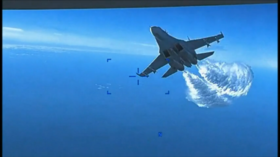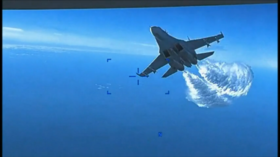 Read more
Pentagon releases video of doomed drone chased by Russian jet
The Hill noted that Russia would have an "easier time" searching for the MQ-9 Reaper than the US as it had fallen near Crimea, while also warning that "the recovery of the drone by Moscow could pose serious intelligence concerns for Washington."
US Chairman of the Joint Chiefs of Staff General Mark Milley said during a briefing on Wednesday that the American military had taken unspecified "mitigating measures" to minimize Russia's ability to collect intelligence from the drone. "We are quite confident that whatever was of value is no longer of value," he said.
Milley also suggested that the UAV sank in an area of the sea with a depth of around 5,000 feet (some 1.5km) and "probably broke up," meaning there's not much data to be recovered from it anyway.
The Pentagon claims that its MQ-9 Reaper crashed into the Black Sea as a result of an unsafe intercept by Russian Su-27 fighter jets. The planes flew close to the UAV several times and dumped fuel on it, with one of the Su-27s eventually hitting and damaging the drone's tail propeller, it said.
The Russian Defense Ministry denied that there had been a collision, saying its pilots had acted professionally and that the US drone stalled after executing a dangerous maneuver. The incident only happened because the UAV made an incursion into a zone that was declared off-limits due to the ongoing Russian military operation in Ukraine, Moscow said. (RT)
Azərbaycan24 sosial şəbəkələrdə