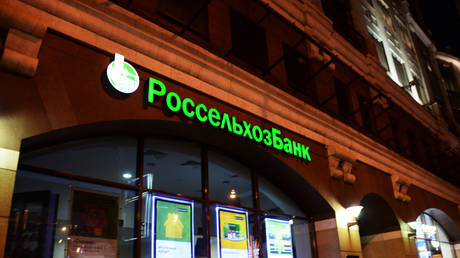 The move could facilitate a further extension of the Black Sea grain deal © Sputnik / Natalia Seliverstova
The United Nations is discussing bringing some Russian banks back to the SWIFT payment system in order to help keep grain shipments from Ukraine going, UN spokesman Stephane Dujarric has said.
When asked during a briefing on Wednesday if any progress had been made on Russia's demands regarding the grain agreement, Dujarric said that UN officials were "trying to doggedly move the process forward."
Moscow warned on Wednesday that the outlook for extending beyond May 18 the grain deal, which ensures the safe export of grain and fertilizer from several Ukrainian Black Sea ports, was "not good."
The Kremlin has demanded allowing Russian Agricultural Bank to return to SWIFT, permitting Russia to import agricultural machinery, as well as the removal of insurance restrictions, port access for Russian ships and cargo, and an unblocking of the financial activities of Russian fertilizer companies.
"Obviously, the fact that a number of Russian financial institutions are not, if not all of them, I'm not sure, are not in the SWIFT system makes things more complicated. And we are in discussions with the people who are responsible for SWIFT and the Europeans and others on that," Dujarric said.
According to him, UN Secretary-General Antonio Guterres has no authority over SWIFT or over the EU member states that imposed anti-Russia sanctions. "He has no authority over insurance companies, shipping companies. He can't tell them what to do," the spokesman stressed, adding that "we're trying to herd a whole group of people."
While the Western sanctions do not directly target Russian agricultural goods, they affect payments, insurance and shipping. With many Russian banks disconnected from SWIFT, direct settlements for exports have been made difficult.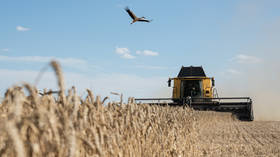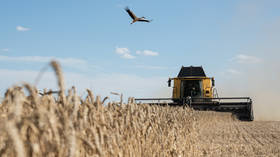 Under the pact, brokered in July last year by the UN and Türkiye, Russia was to receive a sanctions reprieve for its own agricultural goods. However, Moscow has voiced discontent with UN efforts to lift Western restrictions affecting the sector.
According to the Kremlin, only half of the agreement is currently being implemented because not all parties have kept their side of the bargain.
In March, Moscow agreed to extend the agreement for 60 days, stressing it would only consider a further extension if the demands in relation to its own exports were met. UN Secretary-General Antonio Guterres said at the time that the organization would "do everything possible to preserve the integrity" of the deal and make sure that it continued to function.
The Black Sea export agreement has reportedly allowed more than 27.5 million tons of food to be shipped out, which, according to the UN, has helped lower food prices across the world.
For more stories on economy & finance visit RT's business section
Azərbaycan24 sosial şəbəkələrdə