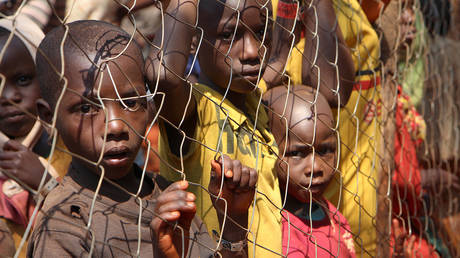 The World Food Programme says it faces cash shortfalls in the wake of soaring prices and a surge in the number of migrants FILE PHOTO: Burundian children, who fled their country, stand behind a fence as they wait to be registered as refugees at Nyarugusu camp, in north west of Tanzania. © STEPHANIE AGLIETTI / AFP
More than 200,000 refugees in Tanzania will receive only half of their food rations starting next month, the UN World Food Programme (WFP) said on Tuesday, blaming a "critical funding shortage" for the decision.
"A few contributions have arrived on time, and we are now forced to make the difficult decision to reduce food rations at a time of increased needs," Sarah Gordon-Gibson, the WFP's country director for Tanzania, said.
She said the agency requires $21 million in donor funds to supply food aid to the affected refugees for the next six months while avoiding deeper cuts that could exacerbate hunger in the camps.
The agency has been providing monthly food baskets to camps, aiming to meet the minimum recommended calorie intake of 2,100 kilocalories. However, the allocations for refugees in Tanzania, the majority of which come from Burundi and the Democratic Republic of Congo, have been progressively reduced since 2020, the WFP said in a statement.
The ration cut is the second in Tanzania in recent months. In March of this year, it was dropped from meeting 80% of food needs to just 65%. "In June, the ration will go further down to 50 percent" as a result of the recent surge in the number of refugees and higher food prices, which have far exceeded available resources, the agency explained.
In March, the WFP announced that it would reduce the quantity of food provided for refugees in five camps in Burundi, where more than 56,000 Congolese were seeking refuge. The organization has also previously reduced supplies in several East African countries due to dwindling funding. (RT)
Azərbaycan24 sosial şəbəkələrdə