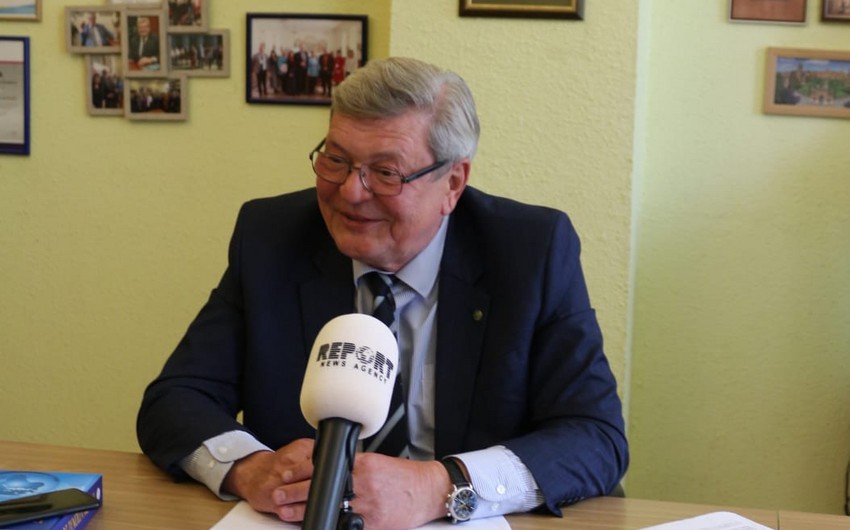 Report's East European Bureau interview with Dmytro Lukianenko, Rector of the Vadym Hetman Kyiv National Economic University
– Has any cooperation been established between the university you lead with educational institutions of Azerbaijan or with Azerbaijan in general?
– Thank you, I am pleased to answer this question because we have fairly stable friendly, and creative ties. I cannot say that we have a lot of students from Azerbaijan. At the moment, there are only six of them. But in general, in recent years, 100 Azerbaijani citizens have received our diplomas, after successfully completing their bachelor's and master's degrees. More large-scale, perhaps even more successful, is our cooperation in science. Well, for example, under the TEMPUS program, we had a joint grant in 2013-2017 with four universities in Azerbaijan. The project was very successful, and it allowed academic, scientific, cultural exchange between our teachers and researchers. Besides, from 2015 to 2019, literally, a year and a half ago, we implemented a project to create such an institution as the Student Ombudsman. It is a very interesting project. Along with our university, it involved Khazar University, Ganja State University, Nakhchivan State University, Nakhchivan Private University, and the Caucasus University of Azerbaijan.
It is pleasant to note that this project culminated in the creation of this Institute of Student Ombudsman in our universities. In particular, this institute was created at our university. I think this idea has spread, particularly in Azerbaijan.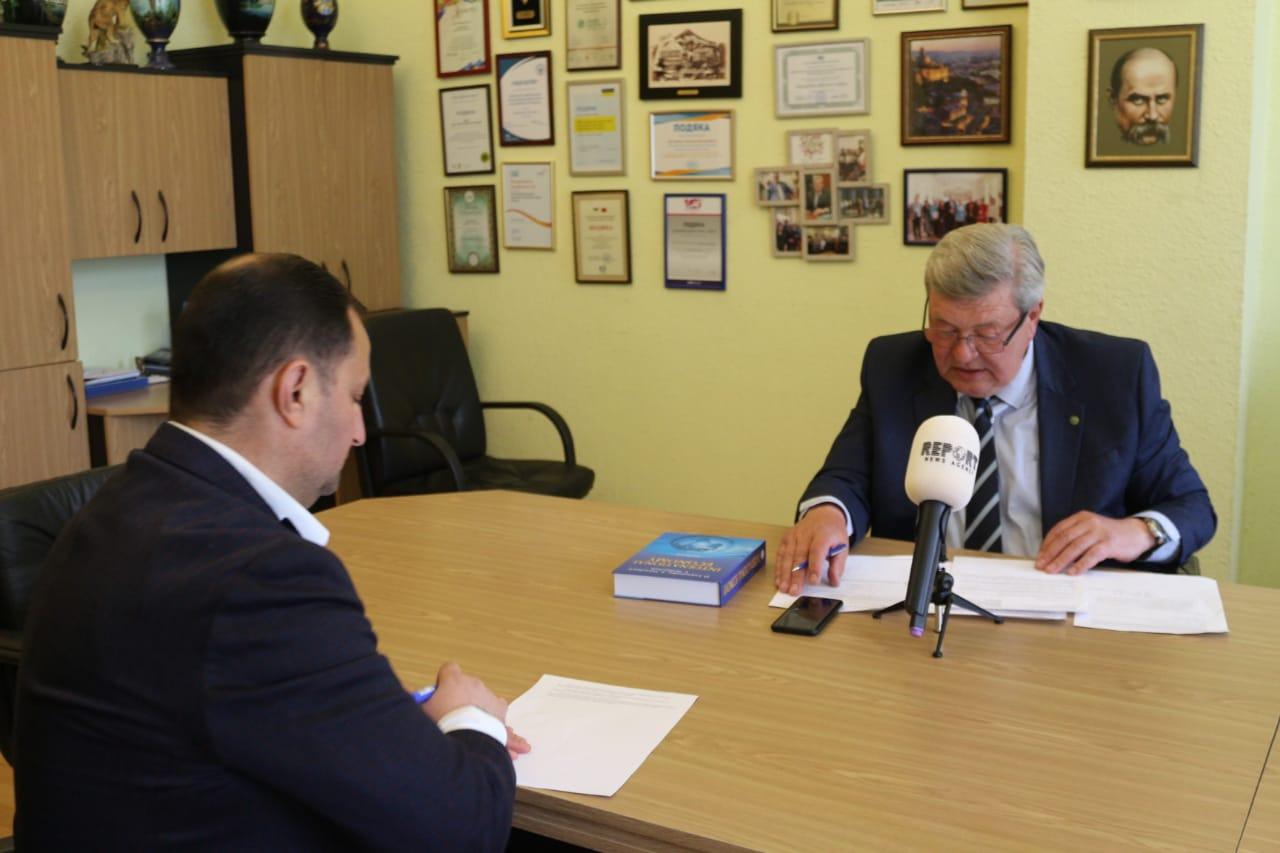 Now is a difficult time due to the pandemic, but just yesterday, another online conference was held with colleagues from Mingachevir State University. In particular, our lecturers deliver a series of online lectures in English for undergraduate and graduate students of this university. The last one was yesterday. It is very nice.
If we talk about what else we have done, then we now have two interuniversity memorandums that are relevant and legitimized, in particular with the Azerbaijan State Economic University and the Baku Business University. These are current memoranda that are relevant today. There are all forms of cooperation that we implement, scientific, academic exchanges, etc. Within the TEMPUS project, we cooperate with the Azerbaijan State Economic University in Baku. An interesting event was the meeting of the general partners of this project in Azerbaijan. This was in March 2017. The forum was very representative, where the universities of Georgia, Azerbaijan, and Ukraine took part.
In addition to institutionalized forms of cooperation, there are less official forms, for example, we exchange reviews on abstracts when defending candidate and doctoral dissertations. By the way, I myself once gave a review of the PhD abstract, for the defense of a graduation thesis at the former Institute of National Economy, and now the State University of Economics. It was a great job. We have several magazines. One of them is bilingual, in English and Ukrainian. And in these magazines, there are publications of your applicants who wrote master's theses. That is, these are kind of soft forms of cooperation.
If we talk about the prospects, then naturally, they are obvious. First, I would like to emphasize that literally in recent years, for well-known political and economic reasons, bilateral cooperation between Ukraine and Azerbaijan has intensified. This is an absolutely obvious fact. An example of this can be, by the way, the initiative or the work of our ministries of education, the Ukrainian Education Minister Serhiy Shkarlet, who renew those agreements that had already lost their relevance. They are being updated. For the exchange, the support of the state is especially important, so that it is intergovernmental relations. Then, within their framework, it is easier to implement student, academic, and teaching exchanges.
Our market is interesting, we have not only a Ukrainian-language program but also English-language bachelor's and MBA programs. We have several programs with a double or general degree, for example, with American, European universities. We have over 50 European partners from Western countries. I think this is our future. Well, we will work anyway, but we would like to see even more support. Now, this support is obvious, especially from the ministry. All this must be updated, given a new dynamism, and then we will be able to develop our partnership very well. And it is obvious.
– What programs would you offer between Azerbaijani and Ukrainian universities in the future?
– I would start with Master's programs and PhD programs.
– Why?
– It seems to me, nevertheless, that by getting closer at such an intellectual, already advanced level, it will be easier to make an exchange on bachelor's programs. Moreover, these programs are compact. For example, we have master's degrees for 1.5 years. But four years is one thing, and a year and a half is another. Moreover, this adds variety, for example, a student received your bachelor's degree, and a master's program in our country. This is normal, this is the student's diversification, this is development. The same goes for PhD programs. I think that soon, as we are doing with our European colleagues, we will have dual leadership of PhD programs. For example, your graduate student, your supervisor and our supervisor. However, for this to take place, new grants, new relationships, new trips, new communications are needed. Then it will be very effective, I think. In parallel, of course, these are bachelor's programs and basic education. I think it's okay.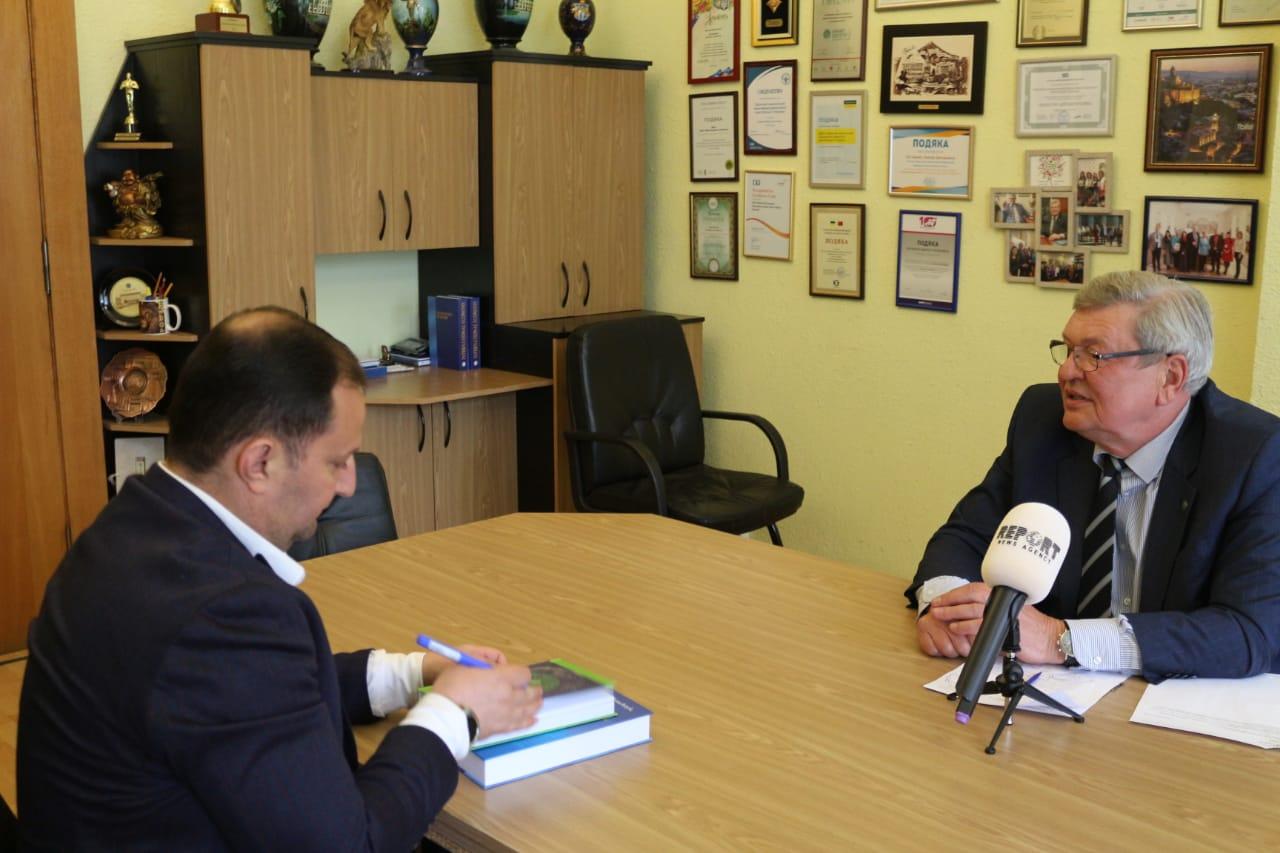 I would advise students from Azerbaijan to choose English-language programs that give a double diploma: ours and one of the Western universities. This is an opportunity to do it here, without leaving for that country. We have a license, etc..
I would like to accept your graduate students, as it once was. We have material and other opportunities to accept, accommodate well and prepare good, high-quality PhD works. We can offer you programs that are also called 'double,' I would say so. For example, a student learns here and in our country – this is what we call inclusive education. For example, a student learned in your country for two years, we agree on the programs so that they are more or less standardized, then that student comes to our country to study for the third or fourth year, and can receive two diplomas: one of the Azerbaijani university and one of our university in one year.
We understand that Azerbaijan is one of the fastest growing resource and intellectually secured countries. These are serious resources, these are serious assets, and we have a lot to learn from you. Maybe you also have something to learn from us. From a purely economic point of view, it is important that there is a scale of exchange, that there are specialists who know Ukraine and have diplomas. They will do business, they will get engaged in bilateral relations. They don't need to adapt: they know the language, there is no language problem, there is a diploma confirming their qualifications. They will probably be participants of large business projects, and then they will be top managers.
– How many Azerbaijani students study at your university? Is their number growing from year to year or decreasing?
– As I said, now there are six of them, last year there were 12, but this doesn't mean that they are decreasing. In the next year I think it will be 18. That is, there is no downward trend. I would like the trend to be growing, and we have the opportunity, everything for this. By the way, your students adapt very well to our environment, and I don't think we should make the quantity of students our priority. Once again, I would like to see not only students, but also postgraduates and doctoral students studying with us. Then it will be easier for the students if their older colleagues are here. In addition, the academic exchange of teachers is very important. Therefore, not only the number of students should grow, but also the number of academic exchanges between teachers. We will be happy to hear your lectures, you will be happy to listen to our lectures. We all live in a global world that lives with the same problems.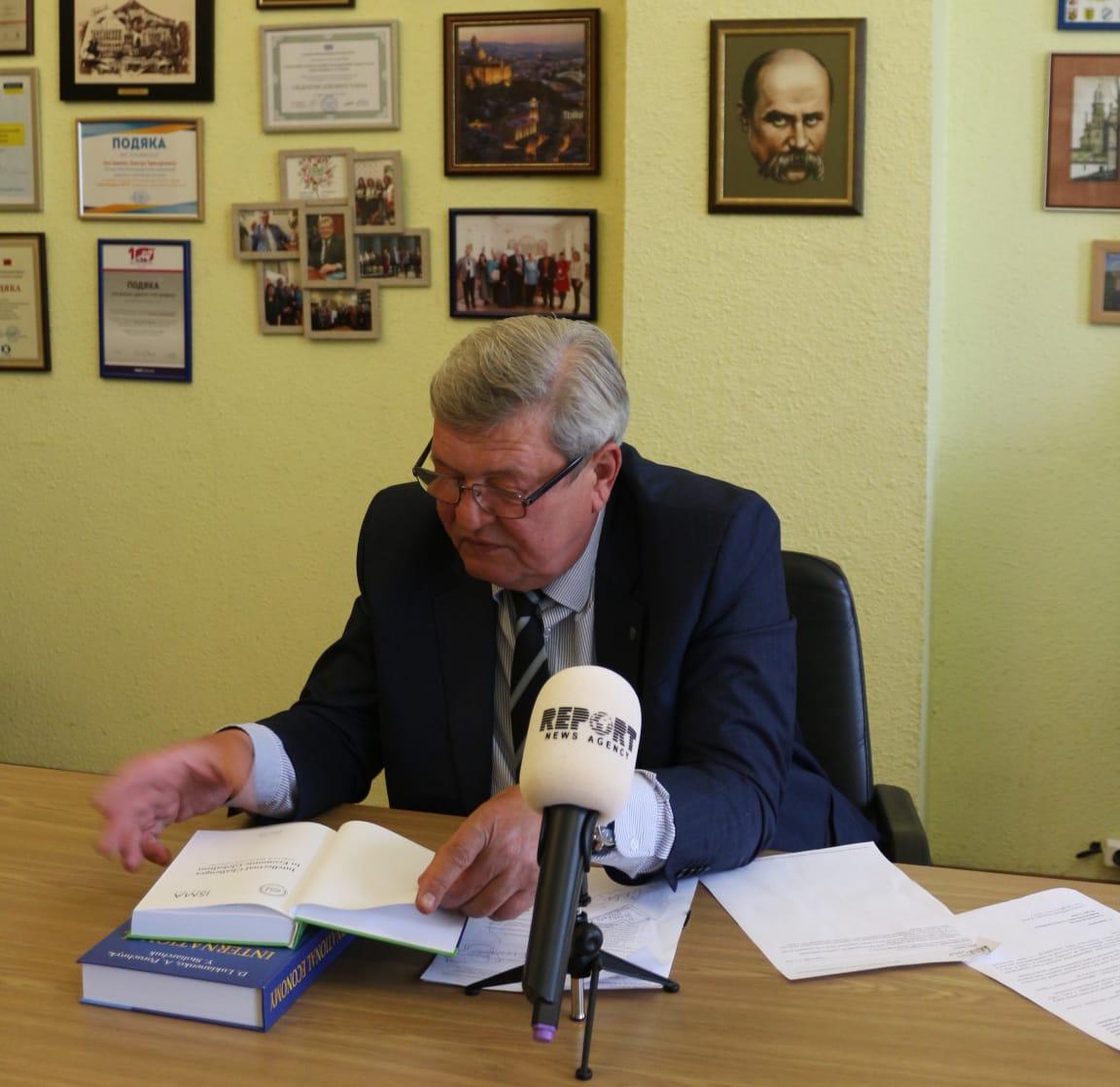 – What is so unique that Ukrainian universities can offer Azerbaijani students to make them strive to come to study here?
– I have already said about the organizational uniqueness, the possibility of obtaining a double or general diploma.
– I meant the peculiarities of education.
– In terms of education, we have been a leading economic university for a long time. We lecture disciplines at an absolutely modern level, including in English. Our professorship is highly respected both in the country and in Europe. We have a lot of very authoritative ambitious people.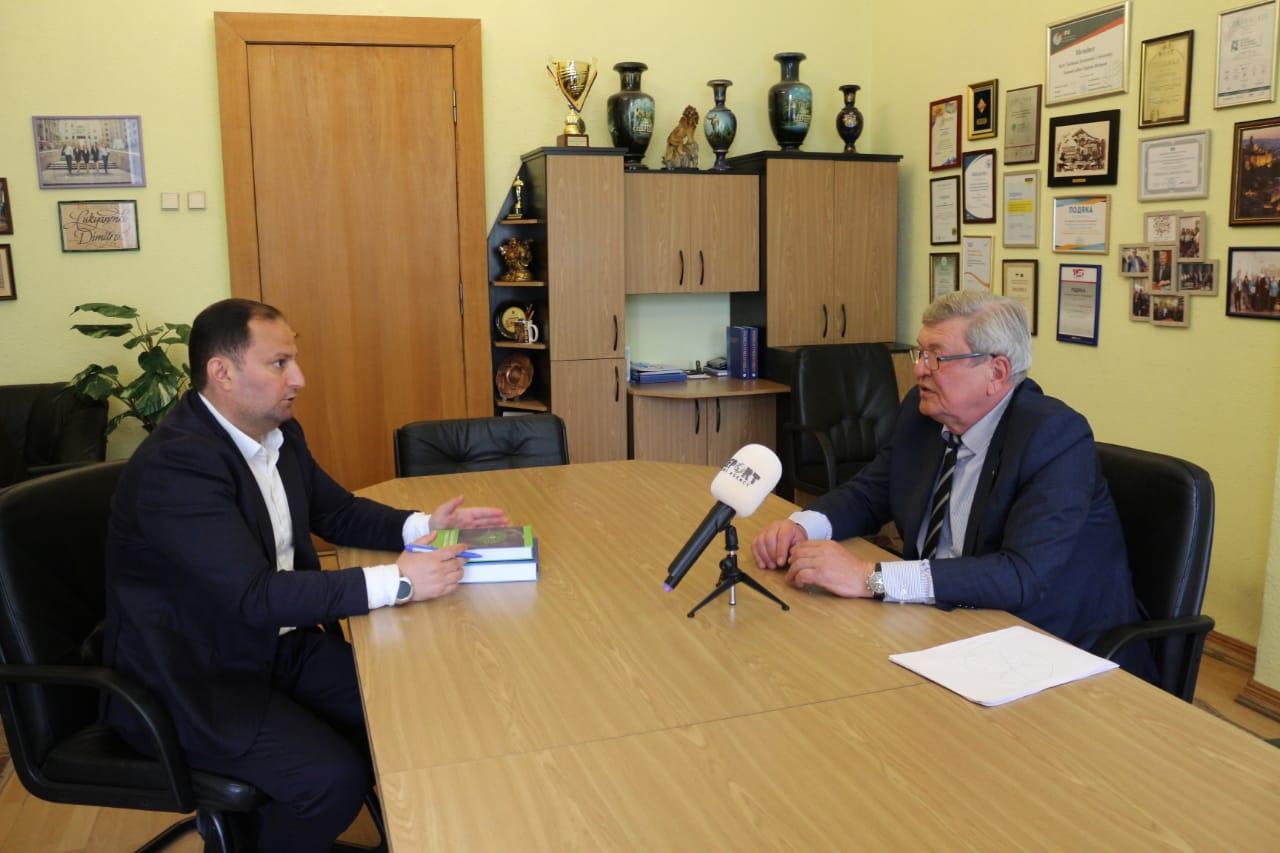 A small nuance – our professorship is very young. Our professors are 40-50 years old, who, as a rule, graduated from some foreign university or program, that is, they work on a modern level. For example, our programs are recognized by the UK. A student goes there for a year, after three years of receiving our education, they reexamine it there, the student doesn't pay for anything, and in a year receives a full diploma. That is, they fully recognize the level of education, the level of disciplines that are taught here.
Now in a pandemic, everyone switched to online education, we were ready for this. We have had distance education for a very long time, for ten years already. All teachers are periodically trained, they discover new programs and techniques. We can provide quality education and distant learning. Everyone is familiar with the products and works well enough. We are ready for switching to remote education. Of course, every nation has own flavor, because each country has its own invisible competitive advantages. Moreover, when a young man, a student comes to another country, it is not only about receiving a diploma. It's not just about learning. This is a whole layer of new culture, new relationships, new youth acquaintances, meetings, which will then be useful in business and public administration. Kyiv is, frankly speaking, an amazing city, with its own very interesting history. There are tons of interesting places here. By the way, there is a very good sports base, we have our own excellent swimming pool, which is open free of charge to students at any time. We have one of the best football stadiums, the fifth in quality in Kyiv. We have tennis courts. It's all in this territory. There are mini-stadiums, that is, if a person goes in for sports, he or she doesn't need to go anywhere. There are any sections and a very good cultural center.
I emphasize once again that study is the main thing, but nevertheless, in parallel, these are cultural, sports factors, just human communication, communications that are invaluable in principle. I think that if your students who graduated from our university would tell how good it is here, it would be an additional competitive advantage. We haven't yet had a case when foreign students, in particular, yours, said that they don't like it here, that it is bad here, or something is missing.
– Currently, the Ukrainian economy is going through a serious transition period. What role does your university play in this process, both in terms of new proposals and in terms of the talent pool?
– It is quite obvious that having a brand, having the essence of an economic university with a national status, we have traditionally, not only now, been one of the training centers for the business elite, top managers. It was traditional. If now, for example, we turn to the Ministry of Finance, there will be many of our graduates there, in the Ministry of Economy as well, etc. We are constantly involved in lawmaking processes. We have a law institute as part of our university, where professionals are always involved in the preparation and examination of laws and regulations. We have a very developed business consulting. We have connections with more than 60 very large, very serious corporations. These are top corporations. Most of them made specialized classes here. Ernst & Young, Price Waterhouse Coopers. These are global audit firms. Their specialists, in parallel with ours, conduct trainings, business classes, master classes. That is, in this regard, as a rule, graduates of our university make a successful career. I don't know if I should say, but we have several billionaires here who graduated from our university when they came here as children. These are famous enough people who did their own business. If we talk about modern times, we are undergoing a structural renewal. For example, let's start with the president. He is a graduate of our university.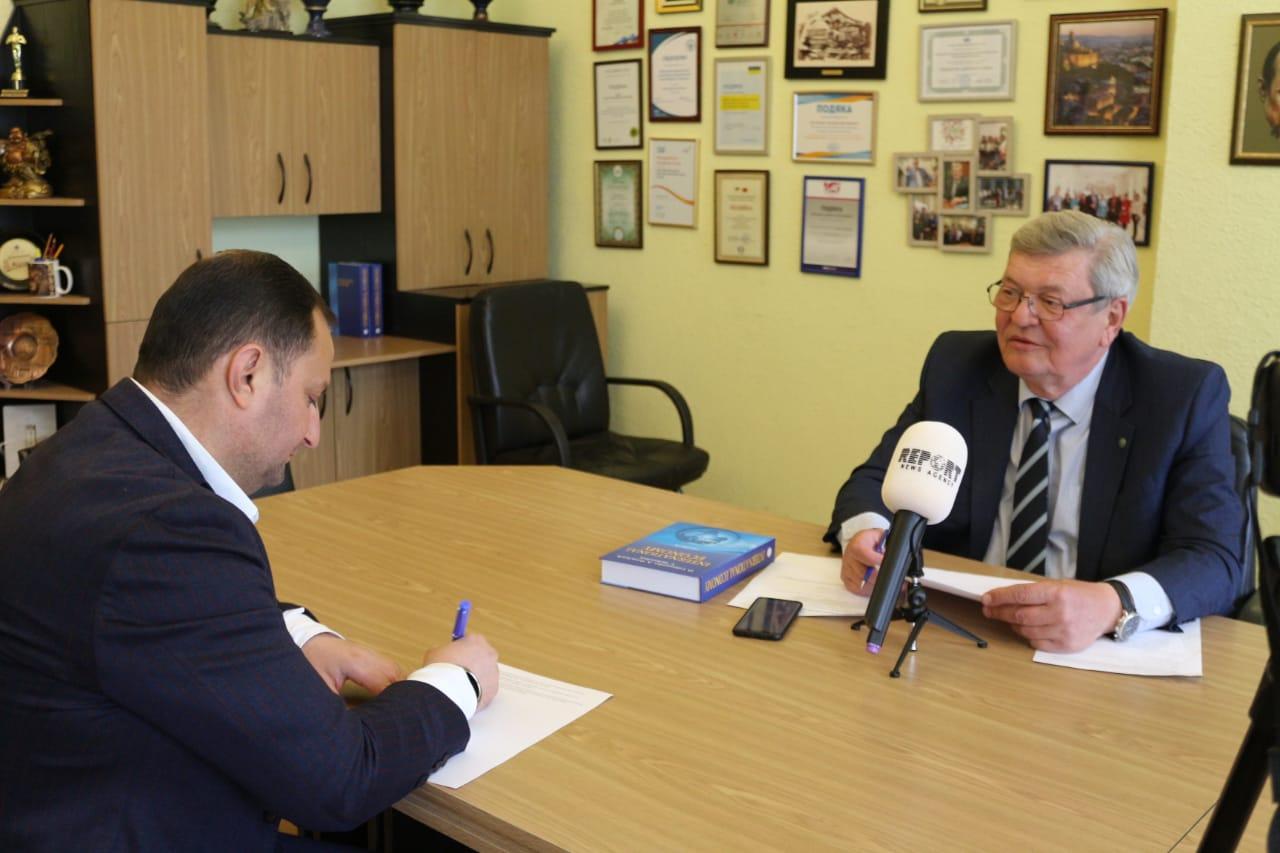 – Seriously?
– Sure. This is our Kryvyi Rih Institute.
– Did he graduate here?
– This is our branch in Kryvyi Rih. These are common programs. He graduated from the faculty of law there. His father is a famous professor. He comes from a family of professors. His diploma says Kyiv National Economic University, because it is a structural unit. Well, for example, there is a committee on science and education of the Verkhovna Rada. It is also headed by our graduate Serhiy Babak. He received education in the West, but nevertheless he graduated from our international faculty at one time. It is impossible to count all of them.
– Do you have enough personnel reserve to arrange the future of the Ukrainian economy?
– I think yes. Maybe there is one problem here. They are all excellent graduates, they study well, but nevertheless, in order to solve problems at a serious level, at least several years of experience are needed. If the business environment is bad, this positive experience cannot be found anywhere, then the case is not us, you know. The point is that they have to be tested in a serious business, in serious structures. Then it will be considered a personnel reserve. This is unambiguous. This is a systemic question. This is what we need to seriously deal with. With the business environment, the legal environment, laws have to work. The country should attract investors, it should be convenient, profitable, useful, and then our graduates, our young people, having gone through this school, can normally be called a personnel reserve.
Azərbaycan24 sosial şəbəkələrdə
Whatsapp xəttimiz -
070 224 40 25