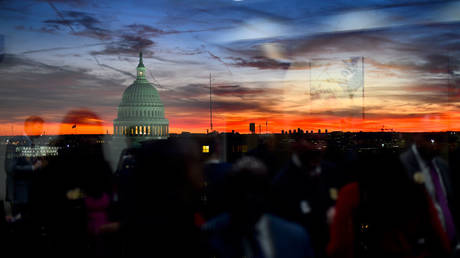 State Department inspectors have flagged concerns about the billions sent to Kiev File photo: US Capitol Building, November 13, 2019 © Mark Makela/Getty Images
The US is struggling to keep track of billions of dollars it has sent to Kiev since February 2022, the effectiveness of which may be reduced by government and private corruption in Ukraine. This was the most recent finding of the US State Department's Office of the Inspector General.
The redacted version of the State Department OIG report, published this week, notes that "corruption in the Ukrainian government and private sector poses risks to the effectiveness of US foreign assistance over the longer run."
Concerns about corruption are well-documented, the OIG adds, and the State Department "intends to develop a plan to address anti-corruption in connection with assistance to Ukraine, including for reconstruction."
According to the report, the US Congress has appropriated more than $113.4 billion for Ukraine since the hostilities with Russia escalated last year. The State Department has been responsible for about $31 billion, of which $22.9 billion was marked "direct budget support" for the Ukrainian government. The OIG review focused on just these funds, administered by the Office of the Coordinator of US Assistance to Europe and Eurasia (EUR/ACE), and not the tens of billions in military aid that went through the Pentagon.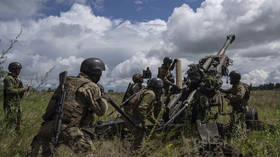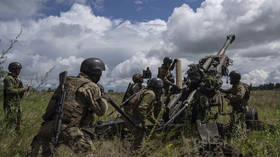 Read more
White House opposes independent oversight of Ukraine aid
Among the report's revelations was that "all foreign assistance" to Ukraine is ultimately channeled through the Assistance Coordinator (ACOORD) team at the US embassy in Kiev, which apparently consists of just two people – described as a "Senior Foreign Service officer and a locally employed staff member."
The embassy's Integrated Country Strategy (ICS) was last updated in 2018. To make up for it, the EUR/ACE has drafted several planning documents approved by the National Security Council. However, each of them "lacked some or all" of the elements required by internal rules, including goals and objectives "with clear desired results and associated performance indicators."
The documents also "did not set forth an overarching strategy for Ukraine or assign responsibility for achieving goals."
The limited number of embassy staff and Ukraine's travel restrictions have created "significant challenges in monitoring programs," the OIG said. Most of the monitoring is done remotely, using online protocols adopted during the Covid-19 pandemic. One office has created a smartphone app to do photo verification of equipment deliveries. Another contracted with an American NGO to "monitor and verify demining operations."
The OIG inspectors "largely conducted the review remotely" between mid-October 2022 and early March 2023.
President Joe Biden's administration has repeatedly pledged to support the government in Kiev "for as long as it takes" to win the "war" against Russia. Earlier this month, the White House opposed a proposal by congressional Republicans to set up an independent special inspector for Ukraine aid, arguing that the Pentagon inspector general and the Government Accountability Office (GAO) were already working to "ensure accountability." (RT)
Azərbaycan24 sosial şəbəkələrdə