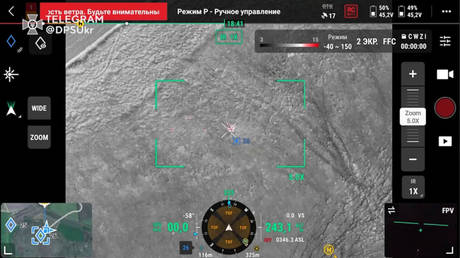 Officials have showcased how UAVs help them intercept people trying to illegally cross country's western border Screenshot from a video published by the Ukrainian border guard service © Telegram / DPSUkr
Ukraine's border-guard service (DPSU) has released several videos showing surveillance drones helping officers catch people trying to leave the country illegally. National media have described those who've been caught as nationals "fleeing" Ukraine, amid an armed-forces mobilization as Kiev's conflict with Russia continues.
In the first clip published by DPSU on Saturday, a drone operator uses the aircraft's thermal camera to guide a patrol towards a group of people hiding in bushes. The service claims the technique helped it catch 14 trespassers in four separate interceptions near the village of Okny near the border with Moldova.
The next day the border guards released footage of a short chase, as seen from a drone via a night camera. The DPSU said the four would-be violators in this instance wanted to go to Moldova but were intercepted as they made their attempt.
Another video published by the service on Monday includes drone footage of a car moving down a battered road. Guards then stop the vehicle and apprehend the driver, who the DPSU claimed to be a people-smuggler.
The suspect allegedly used his transport to sneak his clients to a part of the border with Moldova from where they would then cross illegally. Would-be violators in the first two cases reported by the DPSU had also used services of smugglers, who ask as much as $2,000 for help crossing the border, according to the service.
The footage doesn't go into what motivates people to embark their law-breaking trips. UNIAN, a major Ukrainian news outlet, described the official action as guards "keeping catching nationals fleeing across the border."
Kiev has banned men who are eligible to serve in the military from leaving the country unless they get a waiver. It's now reportedly ramping up efforts to draft additional troops, after suffering heavy casualties in attempts to breach Russian defensive lines over the months of the so-called summer counteroffensive.
Ukrainian MP Sergey Rakhmanin, who sits on the parliamentary Committee for Security, Defense, and Intelligence, said in an interview last week that the country had long exhausted the reserve of persons who'd volunteered to go the front.
Moscow has accused Kiev's Western sponsors of using Ukrainians as "cannon fodder" in a proxy war against Russia. In a speech at a security forum in Beijing on Monday, Defense Minister Sergey Shoigu estimated Ukrainian casualties during the counteroffensive at over 90,000. (RT)
Azərbaycan24 sosial şəbəkələrdə