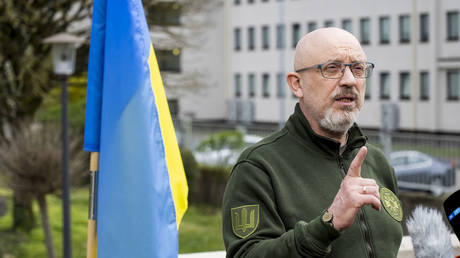 Western supplies of missiles and fighter jets would help close the gap with Russia, Defense Minister Aleksey Reznikov has said FILE PHOTO: Ukrainian Defense Minister Aleksey Reznikov. © Thomas Lohnes / Getty Images
Kiev is running out of Soviet-made anti-aircraft missiles and needs the US and its allies to provide more weapons, including fighter jets, to close the gap with Russia, Ukrainian Defense Minister Aleksey Reznikov has said.
"We have a Soviet [air defense] system, and its missile reserves are depleting. If we don't produce them and only nations, from which we can't get them, have more, we need to replenish them with something else," Reznikov stated in an interview with national media on Thursday.
The minister said Western-made anti-aircraft systems and an increasing number of missiles compatible with them are Kiev's goals, as was acquiring fighter jets from NATO.
"A modern generation 4++ plane is a fully-fledged part of air defense. Once we have them, they will close the gaps left by our soviet systems," Reznikov said, expressing certainty that his nation will be able to work through Western resistance.
The US and its allies have been reluctant to send these types of weapons to Ukraine. Kiev needs sponsors to pledge to provide not only the fighter jets, but also all the munitions and maintenance services they require, the minister explained. "Some nations signed off on tanks, and what we see is them giving four or six, not 200 or 300."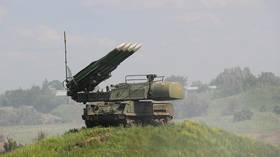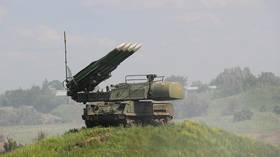 Read more
Ukrainian air defense missiles to run out by May – WSJ
Kiev's problems with air defense were exposed by purported classified Pentagon assessments leaked online. A late February estimate predicted that most types of Soviet missiles would be gone by May, the Wall Street Journal reported earlier this month. The US military proposed covering the shortfall with supplies of German Iris-T and American NASAMS and Patriot systems, according to the leak.
In the interview, Reznikov stressed the importance of showcasing foreign weapons on the battlefield for Kiev's effort to maintain the flow of arms into the country. He recalled how he used a photo of an Australian-provided Bushmaster armored vehicle for that purpose.
"I said: 'I urgently need a video with a thank you to the Australian people.' The guys recorded a message of gratitude in English, and I sent [it] through our ambassador to Australia," he stated. "We said we needed more Bushmasters."
Kiev has long promised to use Western arms and training to launch a major counteroffensive against Russia sometime this spring and reclaim territory, but so far it has failed to materialize. Reznikov said the expectations for the operation have been overblown.
Several Western media outlets have also warned that Kiev's military achievements during the future push against Russia may prove to be lackluster and undermine requests for more military assistance. (RT)
Azərbaycan24 sosial şəbəkələrdə