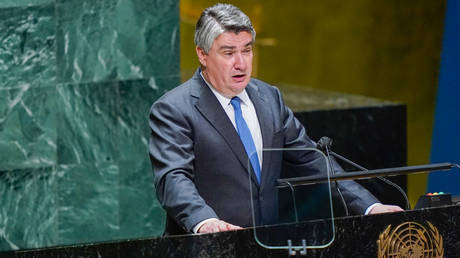 Sending weaponry to Kiev only prolongs the conflict and risks escalation, Croatia's Zoran Milanovic has argued Croatian President Zoran Milanovic speaks at the UN General Assembly in September 2021 in New York City. © Getty Images / Mary Altaffer
Increasingly lethal military aid to Ukraine from NATO powers is "deeply immoral" and will only extend Kiev's bloody conflict with Russia, causing more casualties and heightening the risk of nuclear war in a pointless pursuit of absurd goals, Croatian President Zoran Milanovic has claimed.
"I am against sending any lethal weapons there," Milanovic told reporters at a briefing in Petrinja, south of Zagreb. "It's only prolonging the war. What's the goal? Carving up Russia? Regime change? They're talking about partitioning Russia. This is madness."
Milanovic made his comments after the governments of Germany and the US last week announced that they had decided to send battle tanks to Ukraine. Moscow has warned that such aid creates a greater risk of escalation, especially if Western weapons are used to strike Russian cities or try to seize Russian territory. Nevertheless, Washington and its top NATO allies have pledged to continue arming Ukraine for as long as it takes to win the conflict – however Kiev defines victory.
Ukrainian President Vladimir Zelensky has vowed to retake all lost territories, including Crimea, which became part of Russia following the overthrow of Kiev's elected government in 2014. Milanovic argued that Crimea "will never be Ukraine" – a point on which even Germany's generals agree.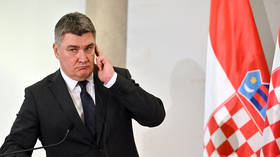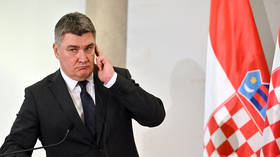 Read more
EU treating Croatia like 'retarded' child – president
"This is deeply immoral, what we're doing, the collective West," the Croatian president said. "German tanks will just unite the Russians, and China. My goal is to distance ourselves [Croatia] from it, to not be circus dogs. Any kind of participation in this is deadly dangerous."
Milanovic said efforts to provoke conflict with Russia had been ongoing since 2014, "and a war broke out." He warned that NATO leaders shouldn't assume that they can treat Russia like Serbia, which the Western bloc bombed in 1999 amid violence in Kosovo. The breakaway province later declared its independence from Serbia.
"Please understand Russia is not the same as Serbia," Milanovic said. "That's a painful fact, and dangerous. We annexed Kosovo, us and the international community. It was taken from Serbia. Did we not do it? Did we not recognize Kosovo? Oh it's not an annexation, it's a seizure? Whatever. This isn't about Kosovo, but about the concept." (RT)
Azərbaycan24 sosial şəbəkələrdə