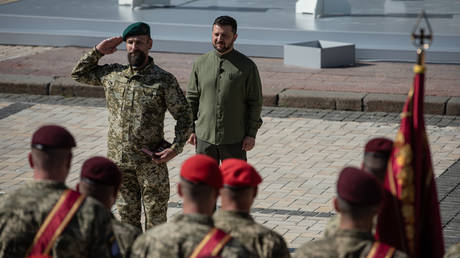 Kiev expects firm security guarantees from the US, the president has said FILE PHOTO: Ukrainian President Vladimir Zelensky attends a military ceremony in Kiev © Alexey Furman / Getty Images
The US will provide long-term military aid to Kiev similar to the type of support that Washington extends to Israel, Ukrainian President Vladimir Zelensky has claimed. A potential leadership change in the White House would not affect that commitment, the Ukrainian leader insisted.
During a TV interview on Sunday, Zelensky outlined the security guarantees that Ukraine is seeking from the US and its allies on its "path to NATO." Leaders of the US-led military bloc failed to offer Ukraine a roadmap to membership at a summit in Lithuania last month, although G7 nations promised continued assistance.
"We will definitely have an Israeli model, the one which has weapons, technologies, training, funding, etc," Zelensky said.
Israel has been the biggest recipient of US foreign military aid since World War II, although annual allocations for Ukraine have surpassed those offered to West Jerusalem since hostilities between Moscow and Kiev erupted last year.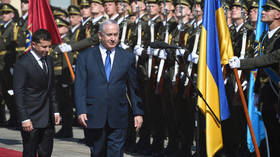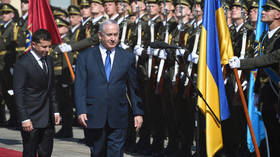 The Middle Eastern nation is not part of NATO, meaning members of the bloc are not legally obliged to come to its defense in the event of attack. Washington, however, has described its commitments to Israeli security as "ironclad."
When asked by interviewer Natalia Moseichuk if Western security guarantees to Ukraine would survive a possible change of leadership in Washington, Zelensky was adamant that they would.
"Those are things that are voted for in the [US] Congress," he said, adding that similar agreements with European countries would likewise be ratified by their national legislatures.
Leadership changes in the US have previously resulted in Washington abandoning international commitments. The administration of former President Donald Trump infamously pulled out of the JCPOA, an international agreement on Iran's nuclear industry which was widely considered a major diplomatic achievement under Trump's predecessor, Barack Obama.
Western media have suggested in recent weeks that the US will not sustain its current level of support for Kiev next year, when Democratic leader Biden will be fighting for a second presidential term. Several Republican candidates have called for aid to Ukraine to be scrapped altogether, or at least reduced and subjected to stronger scrutiny. The list of critics includes Trump, who currently leads the race for the Republican nomination, according to opinion polls. (RT)
Azərbaycan24 sosial şəbəkələrdə