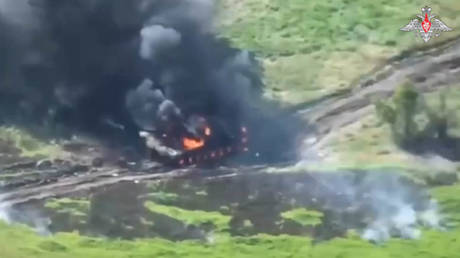 Kiev has reportedly lost over 25 tanks and IFVs trying to cross a minefield in Zaporozhye © Ministry of Defense of the Russian Federation
Ukraine's widely anticipated counteroffensive has seen Kiev's forces lose a significant amount of armor, including dozens of Western-supplied tanks and infantry fighting vehicles, Forbes reported on Tuesday.
According to the outlet, analysts believe that an attempt by the Ukrainian army's 47th Assault Brigade and 33rd Mechanized Brigade to cross a minefield near the town of Malaya Tokmachka in Russia's Zaporozhye region on June 8 proved to be "even more disastrous" than previously thought.
Despite deploying de-mining vehicles, including several ex-Finnish Leopard 2R and one German-made Wisent, the Ukrainian battlegroup appears to have failed to thoroughly clear a path through the mine field. The Wisent and three Leopard 2R struck mines, as did several US-supplied M-2 Bradleys, while the brigade came under fire from Russian artillery and aviation.
As a result of the failed breakthrough, which lasted several hours, experts have estimated that no fewer than 25 Ukrainian vehicles were destroyed, including 17 M-2, four Leopard 2A6 tanks, three Leopard 2R and one Wisent.
Forbes noted that while the loss of one Wisent is not important, as the Ukrainian army still has dozens of them, the other losses have proven to be more significant. The 47th-33rd Brigade battlegroup lost nearly a fifth of Ukraine's M-2, a fifth of its Leopard 2A6 and half of its Leopard 2R, the outlet claimed, pointing out that Kiev lost the equivalent of an entire battalion in one single botched assault.
Although Washington has already pledged to provide more M-2 vehicles to make up for Kiev's June 8 losses, Ukraine's European allies have yet to agree to provide more Leopard 2A6 and there are literally no more Leopard 2R left to send, Forbes noted.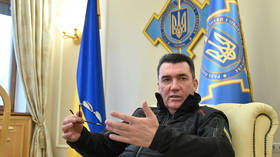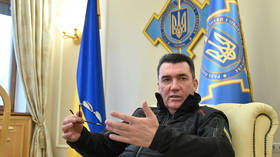 Read more
Counteroffensive is 'hard work' – top Kiev official
Meanwhile, Kiev has admitted that its much-lauded counteroffensive is not proceeding as quickly as it had hoped. Speaking to Ukrainian media on Wednesday, the head of Ukraine's National Security and Defense Council Aleksey Danilov stated that Russian troops have shown stiff resistance and acknowledged that the huge minefields laid by Russian forces have proven to be a challenging obstacle.
The Russian Defense Ministry has also reported that Kiev's large-scale assault has so far failed to achieve results. Russian President Vladimir Putin has described Ukraine's losses as "catastrophic" and claimed on Tuesday that Kiev had lost 259 tanks and 780 armored vehicles since the start of the advance. (RT)
Azərbaycan24 sosial şəbəkələrdə