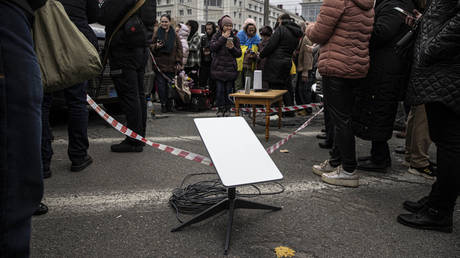 A new problem is affecting Elon Musk's satellite communication service, on which Kiev depends File photo: A Starlink terminal set up by the Ukrainian military in Kherson, November 13, 2022. © Metin Aktas/Anadolu Agency via Getty Images
Many Starlink users across Ukraine have seen their terminals stop working, the Kiev outlet Strana reported on Tuesday. According to experts who spoke to the outlet, the outage is not some nefarious plan by Elon Musk to harm Ukraine, but the result of criminals trying to scam Starlink parent company SpaceX.
The typical scenario is that a terminal stops working and flashes the message "No active account," Vladimir Stepanets, founder of a Starlink support group, told Strana. "When they contact SpaceX technical support, the terminal owners are told there were signs of fraudulent activity," he explained.
SpaceX provided the Kiev government with a number of Starlink terminals beginning in February last year, which Ukraine has used for military communications. Musk has objected to the "weaponization" of his technology, and last month restricted Kiev's ability to use Starlink for remotely controlling drone strikes. When one US senator complained, Musk replied that his company "will not enable escalation of conflict that may lead to WW3."
The current problem is not due to some kind of Musk censorship, experts tell Strana, but rather the consequence of scam artists exploiting the flow of Starlink donations to Ukraine. Because demand for Starlinks has always outpaced their supply, and equipment sold directly by SpaceX costs 30% more than in Poland or Czechia, many "enterprising individuals" buy the terminals there and then resell or donate them to Ukraine.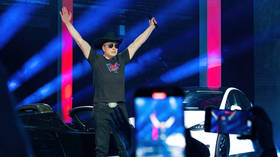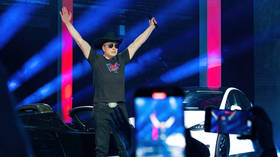 Read more
Elon Musk's plans for SpaceX 'utopia' revealed – WSJ
Stepanets and engineer Oleg Kutkov described the scheme by which the scammers use promotions and discounts to acquire the Starlinks, but then use "chargeback fraud" to not pay SpaceX.
"Starlink can be stolen, bought for a promotion for one euro, or listed for return, and the router that comes with it is resold to Ukraine. Then the person who bought it installs the router, and the account is blocked," Kutkov told Strana.
Stepanets said "tens of thousands" of terminals were in effect stolen from SpaceX through chargeback fraud, including many operated by the Ukrainian military.
Ukrainian users have no way of knowing whether their terminal is legitimate or stolen – until it stops working. Because SpaceX blacklists accounts associated with stolen equipment, users also have no way of reloading their subscription balance, while the debt continues to accrue.
Stepanets also warned users not to attempt any "life hacks" through the military or the Ministry of Digital Development. "This can have bad consequences not only for you, but for the whole country. And it definitely won't work," he told Strana.
The official representative office of Starlink in Ukraine can't help anyone either, as it has not yet opened – although the Kiev authorities granted it the required license last summer. (RT)
Azərbaycan24 sosial şəbəkələrdə