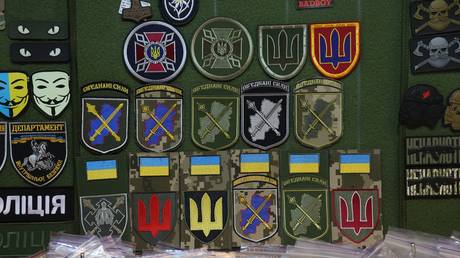 High battlefield losses have reportedly forced Kiev to look elsewhere after a reduction in hired guns from Europe FILE PHOTO: Ukrainian military patches © Sean Gallup / Getty Images
Ukrainian units formed from foreign mercenaries have suffered high battlefield casualties, forcing Kiev to change its approach to finding hired fighters, the Russian Defense Ministry claimed on Monday.
In a statement, the ministry alleged that the Ukrainian military command views foreign fighters as cannon fodder, sending them into the riskiest missions and placing them at the back of the line when it comes to the evacuation of injured troops. This has made recruiting fighters in European countries such as Poland much harder for Kiev, the assessment claimed.
Ukraine has consequently ramped up efforts to find candidates in other parts of the world, according to the Russian Defense Ministry, which stated that a recruitment drive is underway in Argentina, Brazil, Afghanistan, Iraq, and areas of Syria that are "under American control."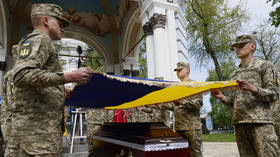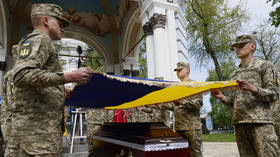 Read more
Hell on Earth: A mercenary's life in Ukraine
The reference to Syria likely concerns the predominantly Kurdish northeastern part of the country. The US supplied Kurdish militias with weapons, training and air support when they served as ground forces for the Washington-led coalition in the fight against Islamic State (IS, formerly ISIS). The Pentagon also maintains a military base in eastern Syria, despite the objections of the government in Damascus.
The Russian Defense Ministry further claimed that Ukraine's diplomatic missions in the US and Canada are actively hiring fighters with the help of the CIA and private military contractors under its influence.
Ukraine created the so-called International Legion for what it describes as foreign volunteers fighting for its cause. Moscow considers the fighters to be mercenaries and has repeatedly said that the regular laws of war do not apply to them. The Russian Defense Ministry's assessment on Monday put the number of foreign mercenaries currently employed by Kiev at 2,029.
There are numerous accounts from foreign fighters describing the perils of joining the Ukrainian ranks, including mismanagement by military leaders, corruption with logistics, and the overwhelming risks of engaging Russian forces. (RT)
Azərbaycan24 sosial şəbəkələrdə