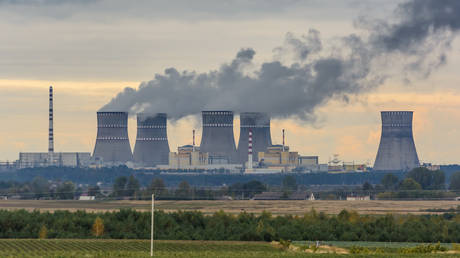 Kiev must loosen Moscow's grip on the nuclear energy market to pave the way for new Western sanctions, the energy minister has explained FILE PHOTO: Rovno Nuclear Power Plant, Varash, Rovno region, Ukraine. © Getty Images / Iryna_L
Ukraine intends to ramp up domestic uranium production in a bid to elbow Russia out of the global nuclear fuel market, Energy Minister German Galushchenko has said. His comments come after several Western nations announced a coalition – described by Moscow as "unstable" – to achieve the same goal.
Galushchenko deplored that Russia still controls a significant part of the world uranium market and has many contracts with companies worldwide. He described this factor as a significant obstacle to the West being able to put new sanctions on Moscow.
"But we are working hard to push them out of this market, as well as to increase uranium production in Ukraine," Galushchenko stated in a post by Ukraine's Energy Ministry on Facebook published on Saturday.
The minister also noted that Ukraine is cooperating with several companies –Canada-based CAMECO in particular – to achieve this goal. Under a deal with the company, Kiev recently sent CAMECO the first batch of uranium extracted at the Eastern Mining and Processing Plant (EMPP) in Dnepropetrovsk Region, the country's only facility specializing in mining and processing this type of material.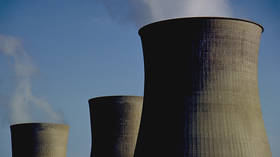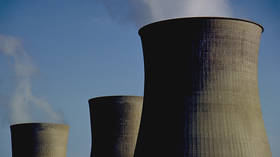 Read more
US doubles uranium imports from Russia – data
Galushchenko previously said that Kiev and CAMECO were cooperating to modernize Ukraine's uranium industry and have plans for the latter to completely meet the needs of Energoatom, Ukraine's nuclear agency, in uranium hexafluoride, a compound essential for the production of nuclear fuel. In exchange, Energoatom promised to sell all uranium mined by EMPP to Canada.
Ukraine first announced plans to phase out Russian nuclear fuel and replace it with supply from Western countries after the Maidan coup in Kiev in 2014. As part of this push, earlier this month Ukraine received the first batch of nuclear fuel from the Swedish affiliate of US-based atomic energy company Westinghouse.
In addition to this, in April, the US, UK, Canada, Japan, and France announced an alliance aimed at displacing Russia from the international nuclear energy market, as well as "supporting the stable supply of fuels for the needs of today."
However, Rosatom, Russia's nuclear energy agency, noted that none of the participating countries have the capacity to fully produce nuclear fuel on their own, adding that the supply chains between them are extremely fragile and inefficient. In light of this, Rosatom branded the agreement "an attempt to assemble a 'Frankenstein monster' in the nuclear fuel segment." (RT)
Azərbaycan24 sosial şəbəkələrdə