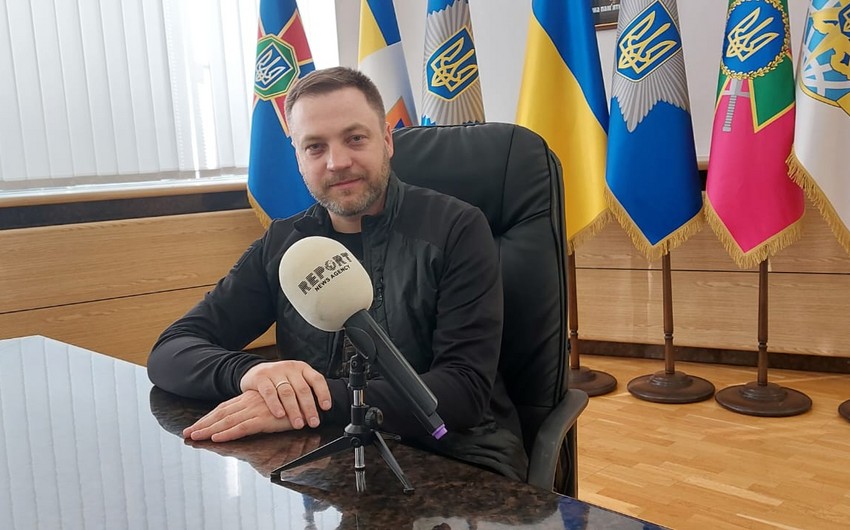 Report's Eastern European bureau presents an interview with Ukraine's Interior Minister Denys Monastyrsky.
– How many civilians have died as a result of a war, already in its third month?
– Unfortunately, any figures that can be announced today are not even a tenth of what will be announced as a result of this war. To date, these are 3,444 civilians who died in this war, of whom 226 are children. We are talking only about those people who have been identified, have their identity established. As a rule, the largest number of victims is in the Kyiv region and it is increasing daily. Literally a week ago we were talking about less than 3,400 people, today we already have more than 3,400 dead civilians. We are approaching the figure of 3,500. Every day, tortured and killed civilians are found in the Kyiv region. We have not yet reached the forests, the forest belt, where, according to our expectations, there may also be many victims. There was a lot of information that the Russian military took people to the forest and shot them there. We do not have access to the forests because these areas have not yet been cleared of mines. Leaving the territory of the Kyiv region, the Russian military completely mined the forests so that the Ukrainians would not approach this territory. Donetsk and Luhansk regions are second in terms of the number of dead civilians. Unfortunately, we do not have access to biggest part of the Luhansk region. In the part of the Luhansk region that remains under the control of the Ukrainian military, heavy fighting is now ongoing. We can't go there to find out the number of civilians left there. The most terrible figures should be expected in the Donetsk region. In such cities as Volnovakha, Mariupol, among the civilian population there may be thousands of victims killed as a result of hostilities carried out by the Russians. The numbers change daily upwards.
– I was in the city of Bucha, Kyiv region. We heard the residents say that there was a lot of rape cases. How many facts do you know and how many criminal cases have been initiated?
– I can't name the exact figure for now. But we have a lot of testimonies from women that there were such facts of rape. Unfortunately, many of the victims were subsequently killed. Therefore, now the procedure is as follows: when a female corpse is found, the cause of death is first established, and then an examination is carried out to verify the fact of rape. All this takes a lot of time. Therefore, today we cannot give an exact number. I can say that dozens of criminal cases have been initiated in dozens of such cases. Most of the women who managed to escape from the occupied territories fled to other countries, such as Poland, Bulgaria, etc. We collect certain information about such facts from the words of the relatives of these women, via the Internet. We ask women who have left the country to report such facts to the established special joint international investigation team. Often the victims of such crimes prefer to remain silent so as not to relive those terrible moments. The cases we have identified are only a small part of such crimes. The number of victims will rise as women gradually testify.
– How can you classify the activities of the forces of the Ministry of Internal Affairs of Ukraine in the war? We periodically hear from Ukrainian officials about the lack of ammunition in the Armed Forces. How is the situation in this regard in the Ministry of Internal Affairs? Please share with us information that may be disclosed.
– At present, there are a lot of people who want to defend Ukraine with weapons in their hands. Indeed, in some territories there are problems, interruptions in the ammunition supply. Why do they arise? Such a war, which is now being waged on the territory of Ukraine, has not been taking place anywhere in the world for many decades. It cannot be compared to any conflict that has taken place so far. All modern weapons and aviation are involved in this war. Shelling is so dense that when we communicate with military specialists from other countries, they say that they have never seen shelling of such intensity and duration anywhere. Therefore, there are shortages of ammunition in certain sectors of the front. Our gunners are really masters of their craft, they deal more damage to the enemy with a minimum amount of ammunition. Dozens and hundreds of videos on the Internet are examples of the work of both our artillery and our unmanned aircraft. This is a separate large part of modern warfare, which will rightfully be evaluated after its completion in terms of developing weapons. The next challenge that we face is the development of new weapons. We are talking, in particular, about the M 777 guns handed over to us by our American partners, which have a new type of ammunition – a 155 mm projectile. As a rule, this takes several months. However, we already see that a few weeks will be enough for our gunners for the new weapons to arrive at the front in full volumes and begin to influence the situation.
– How many Russian sabotage groups have been neutralized up to date and what is the situation now? How many of such facts are being investigated by the Ministry of Internal Affairs?
– It really was a very serious challenge, especially in the early days of the war. In the first days of the war, dozens of sabotage groups infiltrated Kyiv and other large cities, including Odesa, Kharkiv, Mariupol, Kherson and others. Their goal was to cause maximum damage to the leadership of the state, to disable the means of defense, the infrastructure of cities, for example, electrical substations, gas distribution units. The war began on February 24, the weather was very cold. And it is clear that the work of sabotage groups, as a result of which a district of Kyiv would be left without heat, would in fact raise a serious question about how professionally the system copes with such challenges. As many as 123 special operational groups were created in the police, the purpose of which was to find, expose and detain such sabotage groups throughout Ukraine. We had to check hundreds of data a day. Of these, 90 percent turned out to be fake. Later we realized that Russia did it intentionally in a bid to confuse us so that we would not find the sabotage groups. The police alone identified and exposed 88 such sabotage groups. This is a big number. These groups included more than 700 people. In other words, these were large sabotage groups that carried out various assignments. All of them were arrested, and some were liquidated due to resistance during the arrest.
In each case, criminal proceedings were initiated. Some of them are still ongoing and some have already been handed over to the Security Service. Subversive groups are a serious tool of modern warfare, they can damage the economy and defense of Ukraine. We even received information about the preparation of an assassination attempt on the entourage of the Supreme Commander-in-Chief, directly on the president of Ukraine. We understand that this will continue to be a major challenge for our law enforcement agencies in the near future.
– Ukraine is a multinational country, hosting Azerbaijanis working in the Ministry of Internal Affairs. How do you assess the role of Azerbaijanis who are citizens of Ukraine in this war?