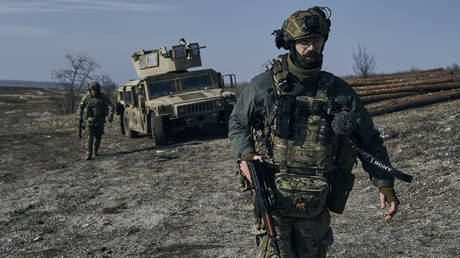 The news outlet claims hopes have been dampened, with a 30 km (20 mile) advance now seen as a realistic objective Soldiers of the Ukrainian 3rd Army Assault Brigade of the Special Operations Forces (SSO) "Azov" near their armoured U.S. Hummer vehicle in position near Bakhmut, Donetsk region, Ukraine, Saturday, Feb. 11, 2023. © AP Photo/Libkos
Some EU nations supporting Ukraine have started to doubt whether Kiev will be able to recapture large swathes of territory this year, Bloomberg has reported. Even a modest advance would likely result in heavy casualties among Ukrainian personnel and require considerable amounts of ammunition and hardware, the outlet claimed, citing anonymous EU officials.
In an article on Friday, Bloomberg alleged that the high hopes prevalent among Ukraine's backers late last year, after Kiev's troops managed to regain a large area, have now mostly dissipated. Fewer people in Western capitals are counting on a decisive push in 2023, with the fighting expected to continue well into next year.
The news agency quoted unnamed European officials "involved in efforts to support Ukraine's military" as predicting that a realistic goal for Kiev would be a 30 km (20 mile) advance. This, if successful, should set the stage for a deeper counteroffensive in 2024, the sources predicted.
To support such a push, Ukraine's Western backers would need to step up their military production capacity, Bloomberg said. According to the outlet, further large-scale deliveries could, however, run into political opposition in some countries.
An unnamed European official cited in the report also warned that any such operation would be a costly endeavor, both in terms of manpower and weapons, as Russian forces have had time to dig in, with minefields, ditches, and concrete anti-tank pyramids in place.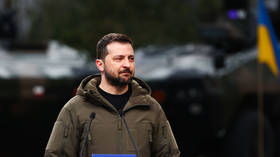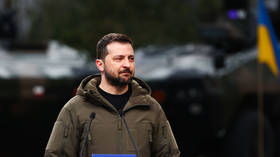 Nevertheless, several European defense officials have told reporters that the counteroffensive, which the Ukrainian leadership has been hyping up for several months now, is likely to get underway by mid-May. Strikes may be expected from multiple directions, potentially including diversionary ones, the sources alleged.
Speaking to The Hill on Tuesday, Ukrainian Prime Minister Denis Shmigal suggested that the counteroffensive may actually begin in the summer. He insisted that Western backers were not putting any pressure on Kiev to force it into action without due preparation.
The official also called on the West to provide Ukraine with more artillery, ammunition, middle- and long-range missiles, tanks, and fighter jets.
On the same day, the Washington Post, citing a trove of recently leaked classified documents, reported that US intelligence did not hold out much hope back in February as to Ukraine's ability to make significant territorial gains during the anticipated counteroffensive.
Among the problems supposedly faced by Kiev at the time were "force generation and sustainment shortfalls." (RT)
Azərbaycan24 sosial şəbəkələrdə