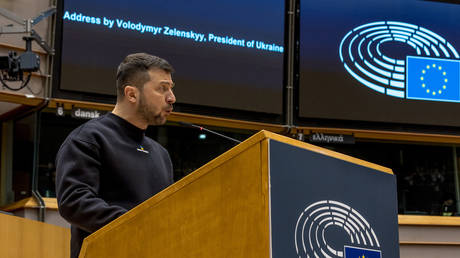 The Ukrainian president used a controversial slogan before alleging Moscow wants to destroy the "European way of life" Ukrainian President Vladimir Zelensky gives a speech at the European Parliament on February 09, 2023. © Getty Images / Omar Havana
Ukrainian President Vladimir Zelensky has claimed to EU lawmakers that Moscow poses to a threat to the entire continent. The leader was speaking at the European Parliament on Thursday as part of a tour to rally support and weaponry to prop up Ukraine amid the conflict with Russia.
Starting his address with the slogan 'Glory to Ukraine', which is commonly associated with World War II-era Nazi collaborators but is widely used in present-day Ukraine, Zelensky reiterated Kiev's aspirations to join the EU, describing it as "home."
"We want to come home to Europe," the Ukrainian leader told the assembled lawmakers in Brussels. "I'm here in order to defend our people's way home." Zelensky went on to describe Russia as "the most anti-European force" in the world, alleging that Moscow is intent on destroying the "European way of life" for all 27 members of the EU.
"This is our Europe, these are our rules, this is our way of life," Zelensky added, earning applause from the audience. "Europe will always be, and remain Europe as long as we are together and as long as we take care of our Europe, as we take care of the European way of life."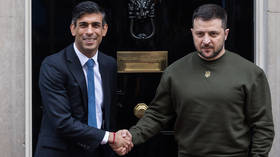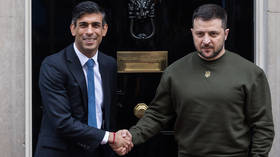 Joining the EU has been a significant talking point for pro-Western Ukrainian politicians for decades. Yet little to no actual progress had been made along that path prior to hostilities breaking out between Moscow and Kiev last February. The conflict has greatly sped up the accession process, with Ukraine receiving EU candidate status in June.
Zelensky's European tour began a day earlier when he traveled to the UK, meeting the leaders and lawmakers in London. The president inspected the ongoing training of Ukrainian troops on British soil and secured additional support from the UK.
"I am proud that today we will expand that training from soldiers to marines and fighter jet pilots, ensuring Ukraine has a military able to defend its interests well into the future," said a statement from UK Prime Minister Rishi Sunak after he met Zelensky.
Ukraine has consistently increased its demands for advanced weaponry from the West, including tanks, drones, fighter jets, and longer-range missiles. Kiev has insisted that the hardware is needed to drive Russian forces out of territories that Ukraine claims as its own. Moscow has repeatedly urged the West to stop "pumping" Ukraine with weaponry, maintaining that continuous military aid will only prolong the hostilities, rather than change their ultimate outcome. (RT)
Azərbaycan24 sosial şəbəkələrdə