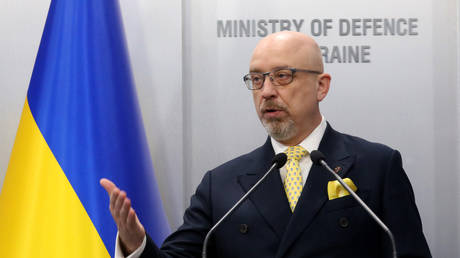 Defense Minister Aleksey Reznikov is also confident his country will receive western heavy tanks and jets FILE PHOTO: Ukrainian Defense Minister Aleksey Reznikov © Global Look Press / Volodymyr Tarasov
Ukraine is already a "de facto" member of NATO, Defense Minister Aleksey Reznikov told the BBC in an interview published on Friday. The minister added that he was "sure" Kiev's formal accession to the alliance was not far off.
"Ukraine as a country, and the armed forces of Ukraine, became [a] member of NATO. De facto, not de jure. Because we have weaponry, and the understanding of how to use it," Reznikov said.
He told the outlet he was certain Kiev would soon receive more powerful equipment from the West, including western-made battle tanks and fighter jets.
The US and its allies have been reluctant to send heavier armament to Ukraine, with some arguing such a move could risk escalation and drag them directly into the ongoing conflict. Reznikov brushed off such concerns, branding them a mere formality.
"This concern about the next level of escalation, for me, is some kind of protocol," the minister said. He also denied that his comments could be seen as controversial amid the West's attempt to avoid being viewed as a party to the fighting.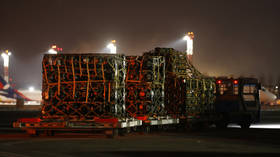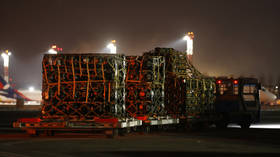 Read more
NATO armies drained by Ukraine conflict – media
"Why [would it be] controversial? It's true. It's a fact," he said, commenting on Kiev's relations with NATO and the West's military support of Ukraine. "I'm sure that in the near future, we'll become a member of NATO, de jure," the minister added.
Moscow regards Ukraine's potential NATO accession as a threat to its national security and has named establishing a neutral status for the country as one of the goals of the military offensive launched in February last year.
Ukrainian President Vladimir Zelensky claimed that Ukraine had become a de facto NATO member as early as in June 2022. He also filed a NATO membership application in September of the same year and called for a fast-track accession process.
The military bloc itself, however, has been less eager to consider such a prospect. In November, NATO reiterated its pledge to accept Ukraine at some point, but said the issue was not on the agenda for the time being. In spring 2022, French European Affairs Minister Clement Beaune said the process could take decades, while Dutch Prime Minister Mark Rutte said too many NATO members were against the idea altogether. (RT)
Azərbaycan24 sosial şəbəkələrdə