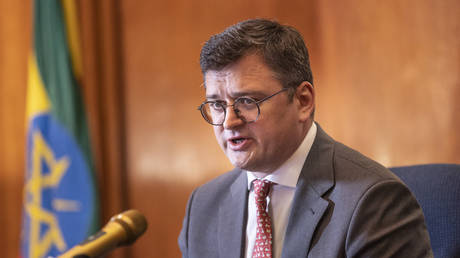 Dmitry Kuleba has made a pitch for Kiev's membership to German media Ukrainian Foreign Minister Dmitry Kuleba speaks at an event in Addis Ababa, Ethiopia, May 24, 2023. © Amanuel Sileshi / AFP
Inviting Kiev into NATO will create peace in Europe, Ukrainian Foreign Minister Dmitry Kuleba argued on Monday, during an interview with the German public broadcaster ARD.
Kiev was "promised entry" in 2008, but Germany and other Western European countries got cold feet, Kuleba told the Tagesschau newscast on Monday. The upcoming Vilnius summit of the US-led military bloc is the time to correct that "mistake," he added.
"We appreciate everything that Germany and the US are doing for Ukraine to support us in this war," Kuleba added, but disagreed with Berlin that the invitation into NATO would drag the West into open war with Russia. The invitation is simple "a political message to Ukraine" and Article 5 – the mutual defense clause – "only applies if Ukraine is a member country."
"Ukraine's NATO membership is a path towards peace. Once Ukraine can join NATO, there will be no more wars in Europe," Kuleba claimed, because "Russia will no longer dare to attack the alliance."
Although Kiev's bid is strongly supported by the Eastern European and Baltic states, the leaders of Western Europe and the US have opposed making Ukraine a full-fledged NATO member. In a CNN interview over the weekend, US President Joe Biden reiterated that Washington is against admitting Ukraine into NATO and offered "Israel-like guarantees" instead.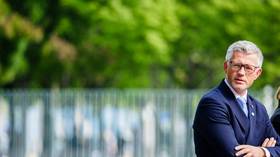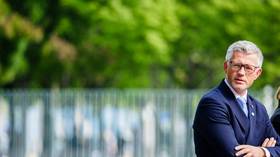 Read more
'Go to hell,' Ukraine tells anti-cluster bomb German MP
"Why does everyone always want to put Ukraine in a separate pot?" lamented Kuleba. "Why are people always looking for alternative solutions? Why can't we simply develop a holistic solution for a European security architecture in which Ukraine sits in the NATO boat?"
He went on to insist that Ukraine is "a win" and not a burden, because "without our army, the eastern flank [of NATO] could not be defended at all." Kiev will not accept guarantees as a replacement for membership, Kuleba added, but only as an interim measure.
The US and its allies have spent over $100 billion just in 2022 to provide Ukraine with weapons, equipment, ammunition and even cash, while insisting they were not a party to the conflict with Russia.
Ukrainian Defense Minister Alexey Reznikov has argued on multiple occasions that his country was already "de facto" a member of the Western alliance and "carrying out NATO's mission" with theblood of Ukrainian soldiers.
No NATO membership for Ukraine was one of the key demands in Russia's collective security proposal sent to Washington and Brussels in December 2021. Biden also revealed that Russian President Vladimir Putin had presented that condition at their July 2021 summit in Switzerland – but that he refused, citing NATO's open-door policy.
Moscow considers NATO's eastward expansion as a threat to Russia's national security and has cited Kiev's ties to the bloc as one of the root causes of the current armed conflict with Ukraine. Russian officials have argued that Ukraine's neutrality would be one of the necessary prerequisites for a lasting peace between the two countries. (RT)
Azərbaycan24 sosial şəbəkələrdə