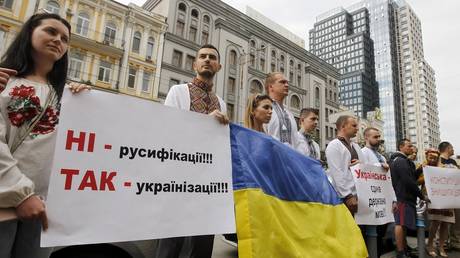 The EU is not pressuring Kiev to protect the Russian language, the Ukrainian deputy prime minister for integration has claimed FILE PHOTO: Ukrainian activists hold a placard reading: 'No – Russification! Yes – Ukrainization!' during a protest in Kiev in 2020. © STR / NurPhoto via Getty Images
The European Commission cannot have complaints about discrimination against the ethnic Russian minority in Ukraine because there is no such section of the population, Kiev's deputy prime minister for European integration, Olga Stefanishina, has claimed.
Some EU members have raised concerns over Ukraine's treatment of ethnic minorities under laws adopted since the 2014 armed coup in Kiev, including the government pushing the use of the Ukrainian language through education and media regulations.
However, speaking at a press conference on Thursday, Stefanishina insisted that "there is no Russian minority in Ukraine. It does not exist. There is not a single judicially defined community identifying itself as a Russian minority."
She added that "when I want to, I speak Ukrainian, and when I want otherwise, I speak Russian." Stefanishina claimed she did not need permission to do that from the EU or "Moskals" – a pejorative term used by some Ukrainians to describe Russians. The politician further stated that officials in Brussels shared her stance.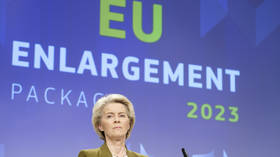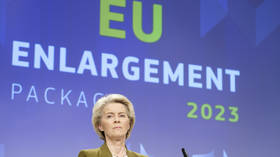 On Wednesday, the European Commission recommended that talks should begin on Ukraine's accession to the EU. The commission's president, Ursula von der Leyen, argued that Kiev had made strides on implementing certain reforms on minority issues.
Stefanishina's remarks apparently confirm reports in the Russian media on Wednesday, which claimed that Brussels had chosen to ignore allegations of anti-Russian discrimination in Ukraine.
"Let me be absolutely clear: the use of the Russian language is not something that the European Commission will pay attention to," an EU source was quoted by RIA Novosti as saying.
EU recommendations regarding language policy will only apply to Hungarians, Romanians, and Bulgarians, the source claimed, adding that Kiev was moving forward on meeting those demands.
In a recent example of a language row, a Russian-speaking driver in Kiev was banned by a rideshare service operator after he rejected demands by two passengers to speak Ukrainian. A video of the incident went viral in late October and drew the attention of language ombudsman Tarask Kremen, who vowed that the defiant driver "will not escape punishment."
In a survey conducted in September by the Kiev International Institute of Sociology at the EU's request, respondents cited language discrimination as the most common type of prejudice in Ukraine, with 45% saying it was a problem. (RT)
Azərbaycan24 sosial şəbəkələrdə