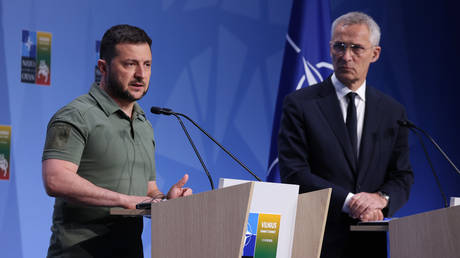 Kiev was denied a roadmap to accession to the US-led military bloc during a summit in Lithuania in July FILE PHOTO: Ukrainian President Vladimir Zelensky (L) and NATO Secretary General Jens Stoltenberg during the NATO summit in Vilnius, Lithuania © Sean Gallup / Getty Images
Ukraine is closer than ever to joining NATO, Secretary General Jens Stoltenberg has claimed, adding that Russia "cannot veto" Kiev's future membership.
The NATO chief made the comments on Thursday at the European Parliament, where he briefed MEPs on cooperation between the US-led military bloc and the EU. Stoltenberg insisted that the two sides "share the same values [and] the same challenges."
Part of his address was dedicated to what NATO offered Ukraine at a recent summit in Lithuania. Kiev was not provided the roadmap to membership that it had requested, but was promised more military aid, representation through a newly created council, and an opportunity to skip a step that NATO candidates typically have to pass.
"And these three things, the interoperability, the NATO-Ukraine Council and removal of the requirement for Membership Action Plan for Ukraine, demonstrate that Ukraine has never been closer to a membership in NATO than now," Stoltenberg declared.
US President Joe Biden said ahead of the July summit that Ukraine would have to meet certain conditions before its bid was accepted. NATO member states have also ruled out Ukraine joining before the conflict with Russia is resolved.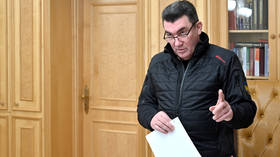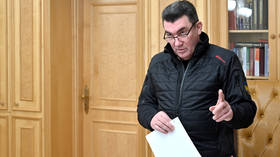 Read more
WW3 has already begun – Ukraine's security chief
After the 2014 Western-backed coup in Kiev, Ukraine declared membership of the EU and NATO as its foreign policy priorities, enshrining these aspirations in its constitution.
That stance helped fuel tensions with Russia, which considers NATO a hostile organization and has for decades objected to its expansion in Europe. The bloc first promised that Ukraine would eventually become a member during a 2008 summit in Bucharest.
Russia has requested that Ukraine be a neutral nation that does not host foreign military forces. In 2021, Moscow attempted to negotiate a security arrangement that would have addressed its concerns, calling on NATO to withdraw its military infrastructure from the Russian border and cease its expansion. The proposal, however, was rejected.
Russian President Vladimir Putin cited NATO's involvement in Ukraine as among the key reasons when Moscow began its military operation against Kiev last year.
Speaking to MEPs, Stoltenberg reiterated NATO's position that "Russia cannot veto membership for any sovereign independent state in Europe." (RT)
Azərbaycan24 sosial şəbəkələrdə