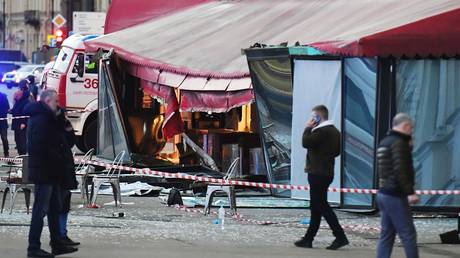 Kiev decided it was not enough to imprison Russian 'collaborators' and that they had to be eliminated, Valentin Nalivaichenko has claimed The site of an explosion at a cafe in St. Petersburg that killed war correspondent Vladlen Tatarsky © RIA Novosti
The Security Service of Ukraine (SBU) has a dedicated assassination program responsible for taking out Russian "collaborators," the former head of the agency, Valentin Nalivaichenko, has claimed in an interview with The Economist.
According to the former official, the special SBU division dates back to at least 2015 and was formed from the elite fifth counterintelligence directorate, after Ukraine's leaders at the time decided that imprisoning people was not enough.
"We reluctantly came to the conclusion that we needed to eliminate people," Nalivaichenko told the British magazine.
The Economist noted that the unit has been linked to the assassinations of Donbass commanders such as Mikhail Tolstykh, aka 'Givi', who was killed in a rocket attack in 2017, Arsen Pavlov, aka 'Motorola', who was blown up in an elevator in 2016, and Aleksandr Zakharchenko, the first head of the Donetsk People's Republic, who was killed in a restaurant bombing in 2018.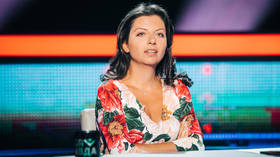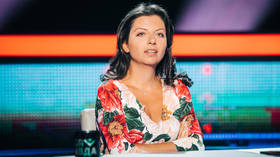 Read more
Ukrainian plot to assassinate RT editor-in-chief thwarted – FSB
Ukrainian intelligence insiders also reportedly told the outlet that the SBU's fifth directorate currently plays a "central role" in operations against Russia, and that it has carried out attacks such as bombing the Crimean Bridge.
According to The Economist, Ukrainian President Vladimir Zelensky is "understood to authorize the most controversial operations," while other decisions are often delegated.
Since the conflict between Russia and Ukraine broke out in February last year, Kiev's security services are believed to have been responsible for several high-profile killings of Russian journalists and public officials. These include the August 2022 car bomb assassination of Darya Dugina – the daughter of Russian philosopher Aleksandr Dugin – and the killing of military blogger Maxim Fomin (also known as Vladlen Tatarsky) in a bomb attack in St. Petersburg in April of this year.
Several of the Ukrainian insiders interviewed by The Economist admitted that they were disturbed by the targeting of "mid-level" targets. "It makes me uncomfortable," one former SBU fifth-directorate officer said, claiming that some killings were designed to "impress the president rather than bring victory any closer." The former spy also admitted concerns that Kiev's assassination campaign appears to be "driven by impulse rather than logic," the outlet said.
Moscow has repeatedly accused Ukraine of adopting terrorist tactics, and has criticized its Western backers for allegedly turning a blind eye to its activities.
Azərbaycan24 sosial şəbəkələrdə