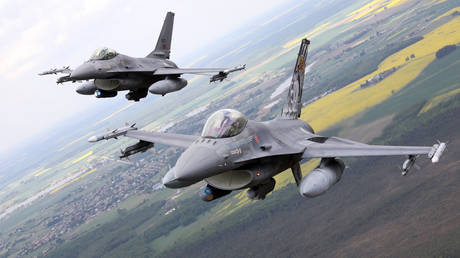 Possible shipments of Taurus projectiles with a range of 500km have reportedly sparked concerns in Berlin of a severe escalation F-16 military fighter jets participate in NATO's Baltic Air Policing Mission in Lithuanian airspace near Siauliai, on May 23, 2023. © PETRAS MALUKAS / AFP
Ukraine has asked Berlin to provide it with long-range air-launched missiles that could potentially reach Moscow, a spokesperson for Germany's Defense Ministry confirmed on Saturday.
On Friday, the Frankfurter Allgemeine Zeitung newspaper reported, citing two unnamed "insiders" within the German military, that Ukraine "urgently wants" Swedish-German Taurus missiles. These munitions could be allegedly placed on US-made F-16 fighters, which are now being considered for delivery to Kiev by several Western countries.
Ukrainian President Vladimir Zelensky is said to have asked for the missiles during his meeting with German Chancellor Olaf Scholz in Berlin earlier this month. For now, it is unclear whether Berlin, which earlier said it did not have any F-16s to send to Kiev, will grant this request.
The report said the demand presents Berlin with a dilemma, as some in the German government doubt whether Ukraine would sensibly use such a weapon – which can travel 500km (310 miles) and is armed with a 500kg warhead. As Kiev may use the Taurus to strike Moscow from the border, "some fear that in a situation of dire need, Kiev could allow the war to escalate uncontrollably," the paper added.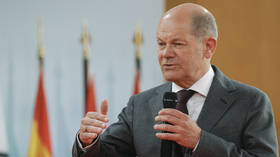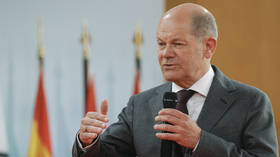 Read more
Germany pours cold water on Ukraine F-16 hopes
According to the outlet, another problem is that the Taurus needs extremely precise and up-to-date information to stage attacks, raising questions as to whether Berlin would be willing to share such data with Kiev.
Earlier this month, the UK decided to supply Ukraine with Storm Shadow missiles with a range of over 250km (155 miles), with Moscow's Foreign Ministry condemning the move as another step towards a "serious escalation." Later, the Russian Defense Ministry said that Kiev used the weapon to conduct a strike on civilians in the Donbass city of Lugansk, resulting in six children injured, according to local authorities.
Even without long-range missiles, earlier this month Kiev unsuccessfully attempted to conduct a strike on the Kremlin using two drones, which according to Moscow was an attempt to assassinate Russian President Vladimir Putin. Kiev has denied any involvement, with Ukrainian President Vladimir Zelensky claiming that "we fight on our territory" and "we don't have… enough weapons for this." (RT)
Azərbaycan24 sosial şəbəkələrdə