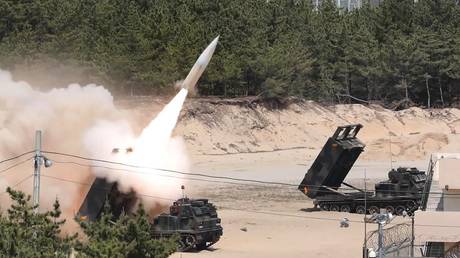 The US president is apparently backtracking on his earlier insistence that Kiev wouldn't be given long-range missiles A US Army Tactical Missile System (ATACMS) fires from an undisclosed location in South Korea, May 25, 2022 © AFP / South Korean Defense Ministry
Supplying long-range ATACMS missiles to Ukraine is "still in play," US President Joe Biden told reporters on Monday. While Biden and his officials previously said they wouldn't give Kiev such weapons, they are now walking back those statements, as was the case with Abrams tanks and F-16 fighter jets.
Speaking to the media outside the White House, Biden was asked "is it time for ATACMS for Ukraine?" to which he responded "that's still in play."
Manufactured by Lockheed Martin, the MGM-140 ATACMS is a tactical ballistic missile with a range of up to 300km (190 miles). ATACMS missiles can be fired from the M270 MLRS or M142 HIMARS platforms, both of which the US has already given to Ukraine.
Ukrainian officials have been asking their US counterparts for ATACMS missiles since last year, but Biden and his administration have – publicly at least – expressed reluctance. American officials first cited concerns that Ukraine would use these missiles to strike deep within Russian territory, provoking a devastating response from Moscow, before switching tack in recent months and claiming that the US does not have enough of the missiles to spare.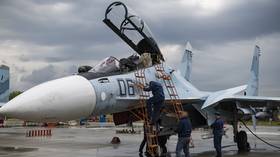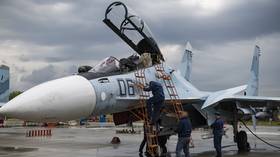 Read more
Ukrainian airfields hit by Russian strikes – Moscow
When the UK announced this month that it would arm Kiev with Storm Shadow cruise missiles – which can hit targets more than 250km away, US Secretary of State Antony Blinken said that Washington would not follow London's lead.
Russian forces have since intercepted almost 30 Storm Shadow missiles, Russian Defense Minister Sergey Shoigu told reporters on Monday. Kiev maintains that "100%" of its Storm Shadow missiles have hit their targets.
It is unclear whether the apparent vulnerability of Ukraine's Storm Shadow missiles to interception is influencing Biden's thinking on providing ATACMS missiles, or whether handing over the missiles was the president's long-term plan all along. The Biden administration followed a similar script before it announced that it would provide Kiev with M1 Abrams main battle tanks in January, first ruling out deliveries entirely, then revealing that the idea was "on the table" via media leaks, before finally announcing the decision publicly.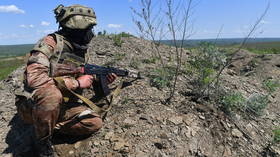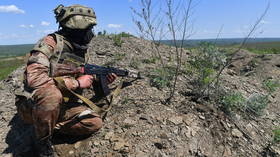 Read more
Russia hasn't started to 'act seriously' in Ukraine – envoy
Likewise with the provision of US-made F-16 fighter jets, Biden emphatically declared "no" when asked about handing over the jets last year, before insisting in February that Ukraine "doesn't need" them, and just last week announcing that the US would train Ukrainian pilots and give its allies permission to supply F-16s to Kiev.
Moscow has repeatedly warned Western nations that weapons deliveries to Ukraine make them de facto participants in the conflict. On Sunday, Russian Foreign Minister Sergey Lavrov declared that the US and its allies were "playing with fire" by doubling down on their support for Kiev. (RT)
Azərbaycan24 sosial şəbəkələrdə