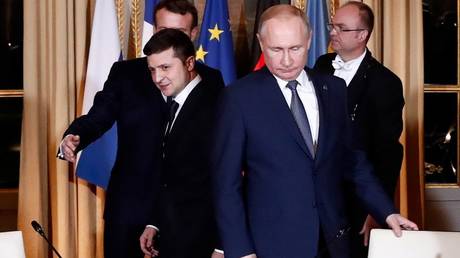 The idea of trading land for peace is already being discussed within the bloc, Stian Jenssen told Norwegian media Ukrainian President Vladimir Zelensky and Russian President Vladimir Putin attend a meeting on Ukraine at the Elysee Palace in Paris, France, December 9, 2019 © AFP / Ian Langsdon
Kiev could end up relinquishing some of its former territory in exchange for NATO membership, Secretary General Jens Stoltenberg's chief of staff, Stian Jenssen said at a debate on Tuesday. In his own statements on the issue, Stoltenberg has insisted that Kiev will set its own terms for "victory."
"I think that a solution could be for Ukraine to give up territory, and get NATO membership in return," Jenssen said at the debate, according to Norway's VG newspaper. This discussion is already underway within NATO, he said, suggesting that it could be a "possible solution" to the conflict.
No NATO leaders have publicly endorsed the idea of Kiev giving up its claims to the territories of Donetsk, Lugansk, Kherson, or Zaporozhye, which were incorporated into the Russian Federation following referendums last September. Likewise, while Western officials have cast doubt on Ukraine's ability to seize Crimea – an historical Russian territory which rejoined the Russian Federation in 2014, none have urged Kiev to abandon its claim to the peninsula.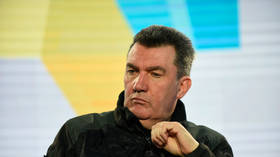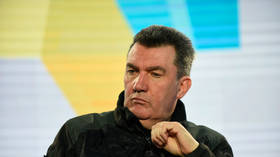 Such an idea has apparently been floated behind the scenes, however. Swiss outlet Neue Zürcher Zeitung claimed in February, citing sources, that CIA Director William Burns had offered Russia a "land for peace" deal in which Moscow would keep "20% of Ukrainian territory." The White House, the CIA, and the Kremlin all denied that such a proposal had been made.
Whether such a deal would be accepted by Kiev or Moscow remains doubtful. Russian President Vladimir Putin stated last year that securing the military neutrality of Ukraine was a key factor behind his decision to send troops into the country, and that having a NATO-aligned Ukraine on Russia's borders would present an unacceptable security risk.
Ukrainian National Security and Defense Council chief Aleksey Danilov stated on Tuesday that Kiev will never negotiate with Putin's government, that none of Ukraine's Western backers are pushing for peace, and that "Russia must be destroyed like a modern-day Carthage."
Achieving this goal is proving extremely difficult for Kiev. Two months into its long-anticipated counteroffensive against Russian forces, the Ukrainian military has lost more than 43,000 men and nearly 5,000 pieces of heavy equipment, according to the latest figures from the Russian Defense Ministry.
Stoltenberg insists that NATO will "ensure that Ukraine gets the weapons it needs to be able to retake territory, liberate the lands and win this war and prevail as a sovereign, independent nation."
While he has delivered variations on this statement throughout the conflict, NATO has been more evasive on when Ukraine can join the military bloc. After a summit in Lithuania last month at which Kiev was denied an offer of membership, NATO's 31 members put out a joint statement explaining that Ukraine can join only "when allies agree and conditions are met."
(RT)
Azərbaycan24 sosial şəbəkələrdə