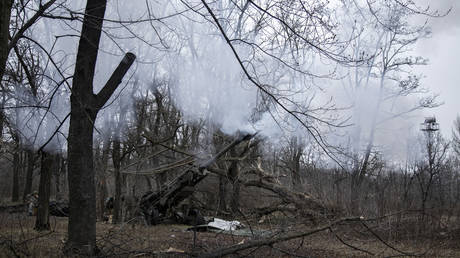 Bringing the ongoing hostilities to a halt would only "ratify" Russia's "conquest" of Ukrainian lands, John Kirby has said Ukrainian servicemen fire a US-made M777 howitzer. © Getty Images / Anadolu Agency / Narciso Contreras
Washington is firmly opposed to a ceasefire between Russia and Ukraine, US National Security Council spokesman John Kirby has said, branding any peace initiatives "unacceptable" in the current situation. The senior White House official made the remarks on Sunday in an interview with Fox News.
Kirby touched on the upcoming visit of Chinese President Xi Jinping to Moscow to meet his Russian counterpart, Vladimir Putin, stating that should any peace initiatives come out of their meeting, Washington would reject them.
"What we have said before, and we'll say it again today, that if coming out of this meeting, there's some sort of call for a ceasefire, well, that's just going to be unacceptable because all that's going to do… is ratify Russian's conquest to date," Kirby stated.
Moscow and Beijing have been "increasing their cooperation and their relationship" lately, the official said, asserting that the two nations have joined to undermine and "rewrite" the so-called "rules of the game globally."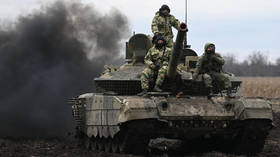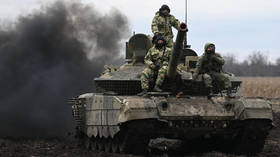 Russia and China "are two countries that are chafing against this international rules-based order that the United States and so many of our allies and partners have built up, since the end of World War II," he said.
Recently, China floated a 12-point roadmap for putting an end to the conflict between Russia and Ukraine, which has been raging for over a year already. China has taken a neutral stance on the hostilities, repeatedly urging both parties to show restraint and stick to diplomacy in order to find a resolution.
While the Chinese roadmap has been welcomed in Moscow, it has received a cold reception in the West. Multiple top officials have brushed off Beijing's efforts to act as a mediator, accusing it of siding with Moscow. US President Joe Biden, for instance, openly questioned Beijing's motives and voiced suspicion over Moscow's reaction to it.
"Putin is applauding it, so how could it be any good?" the US president said shortly after the plan was unveiled. (RT)
Azərbaycan24 sosial şəbəkələrdə