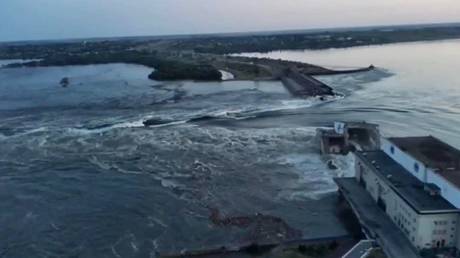 The act of sabotage may lead to "very serious consequences," Dmitry Peskov has warned A view of the damaged Kakhovka hydroelectric dam near Kherson, Russia, June 6, 2023 © AFP / Ukrohydroenergo
Ukrainian forces sabotaged the Kakhovka hydroelectric dam in Russia's Kherson Region in a bid to deprive Crimea of drinking water and distract from its faltering counteroffensive, Kremlin spokesman Dmitry Peskov claimed on Tuesday.
The dam was partially destroyed early on Tuesday morning, sending torrents of water downstream and flooding towns and villages along the path of the Dnieper River.
"We are talking about a deliberate sabotage by the Ukrainian side," Peskov told reporters. "This sabotage could potentially lead to very serious consequences for several tens of thousands of inhabitants of the region, environmental consequences and consequences of a different nature, which have yet to be established."
Peskov claimed that one of the key goals of the attack was to deprive Crimea of water. Crimea's 2 million residents largely receive their water from the North Crimean Canal, which is fed from the reservoir above the Kakhovka dam.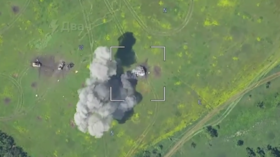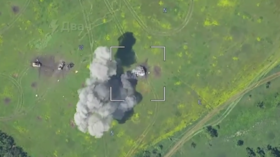 "This sabotage is also connected with the fact that, having launched large-scale offensive operations two days ago, the Ukrainian armed forces are not achieving their goals," Peskov continued. Russia's Defense Ministry has said it repelled several large-scale attacks in the southern sector of the front in recent days. These "offensive actions are choking," Peskov stated.
Ukrainian officials and their European backers have accused Russia of blowing up the dam, with European Council President Charles Michel calling the attack "a war crime." Moscow "strongly rejects" the accusation, Peskov said.
While the flooding now makes it difficult for Ukrainian forces to cross the Dnieper and attack Russia's defensive lines, the destruction of the dam also appears to aid a number of Ukraine's key objectives. The flooding mostly threatens the eastern bank of the river, where Russian troops withdrew to last year amid concerns that the Ukrainian military would blow up the dam.
With the dam destroyed, the level of the Dnieper has fallen further upstream, including at the Zaporozhye Nuclear Power Plant. Ukrainian troops made several attempts to cross the river to recapture the plant from Russian forces last year, and lowering the water level would remove a major obstacle to future attempts. Additionally, the Soviet-era plant depends on water from the Dnieper to cool its reactors and its spent fuel rods.
The Ukrainian military conducted a test strike on the dam using an American-supplied HIMARS launcher last year, Ukrainian General Andrey Kovalchuk told the Washington Post in December.
Two months earlier, Russia's envoy to the United Nations, Vassily Nebenzia, warned the UN Security Council that Kiev's forces were considering a "reckless" attack on the dam with sea mines or missiles. "The authorities in Kiev and their Western backers will bear full responsibility for all the consequences of such a devastating scenario," Nebenzia cautioned.
(RT)
Azərbaycan24 sosial şəbəkələrdə