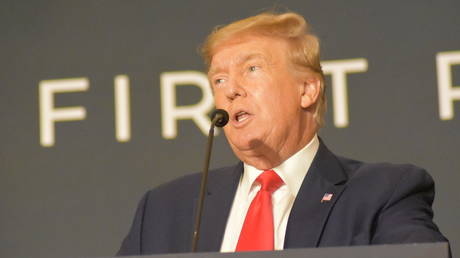 The former US president has again argued that he could end the conflict in 24 hours FILE PHOTO: Former President of the United States Donald Trump. © Kyle Mazza / Anadolu Agency via Getty Images
Donald Trump has once again claimed that he would need just 24 hours to negotiate peace in Ukraine. Speaking to Fox News, the former US president warned of a possible nuclear escalation and urged the hostilities to be ceased immediately.
"The key to that is that war has to stop now, because Ukraine is being obliterated," Trump told host Sean Hannity in an interview on Monday.
Trump compared footage from the conflict to "hundreds of these demolition sites" that he used to see as part of his construction business. "There was not a building standing," the former US leader explained.
Trump repeated his assertion that he could reach a peace deal in Ukraine within 24 hours if elected back into office. However, he declined to explain his strategy, claiming it would be "very easy" but would not work if revealed prematurely.
Trump suggested that the US presidential election might not even happen next year, arguing it was "possible we'd be in World War III with these idiots that are doing what they are doing." Such a conflict would make the two previous world wars look like "patty cakes," he added.
The nearly hour-long interview with Hannity was Trump's first appearance on Fox News since he announced his 2024 presidential run.
The former president has a complicated relationship with the leading conservative US news channel, which he has criticized for its positive coverage of Florida Governor Ron DeSantis, his potential challenger for the Republican Party's nomination. Hannity has been among the most outspoken Trump supporters on the network. (RT)
Azərbaycan24 sosial şəbəkələrdə