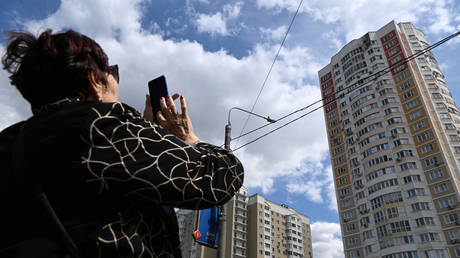 At least one of the buildings hit by Kiev's drones in Moscow was tied to Foreign Intelligence Service, the report says A woman takes a picture of a damaged multi-storey apartment building after a reported drone attack in Moscow on May 30, 2023. © Kirill KUDRYAVTSEV / AFP
A Ukrainian drone attack that damaged several residential buildings in Moscow last week was likely an attempt to target residences of Russian intelligence officers, NBC reported on Tuesday, citing two US sources.
According to Strider Technologies, a US-based tech company which specializes in gathering intel, at least one of the homes hit by drones had ties to Russia's Foreign Intelligence Service (SVR). It is said to be owned by a state-affiliated entity which allegedly had been contracted by an SVR-linked military unit.
However, there was no indication whether the intelligence officer's home was damaged, or whether any Russian operatives were injured, the report says.
"This was not some random attack on a wealthy suburb," Eric Levesque, the Strider Technologies co-founder said, describing the raid as a crucial development in psychological warfare within the Ukraine conflict.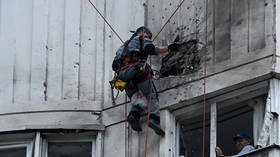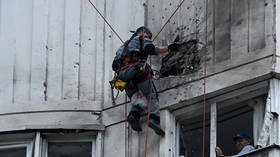 Read more
Ukraine operates network of saboteurs inside Russia – CNN
On May 30, Moscow mayor Sergey Sobyanin said that the drone raid on the Russian capital resulted in several buildings sustaining minor damage, but did not cause any serious injuries among local residents.
Later, Russia's defense ministry accused Ukraine of launching "a terrorist attack" on the capital involving eight drones, which were either downed by air defenses, or suppressed by electronic warfare measures and deviated off course. Kiev denied direct involvement, but cheered the incident.
Meanwhile, Kremlin Press Secretary Dmitry Peskov suggested that the attack was meant as a response to Moscow's prior strikes on Ukrainian "decision-making centers."
Shortly after the attack, UK Foreign Secretary James Cleverly claimed that Kiev had a "legitimate right" to strike targets on Russian soil, while the White House struck a more cautious tone, saying that "as a general matter, we do not support attacks inside Russia."
The latter statement, however, failed to convince Anatoly Antonov, Russia's ambassador to Washington, who noted that the drone raid was "in line with the general policy of the collective West to subvert our country."
The report follows a CNN claim on Monday, citing sources, that Ukraine had set up an intelligence network on Russian territory, providing its members with drones to stage attacks on various targets inside the country. (RT)
Azərbaycan24 sosial şəbəkələrdə