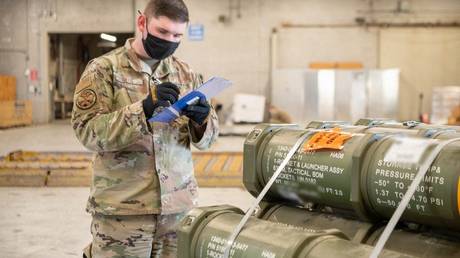 One of the major programs funding US assistance for Kiev has now run out, spokeswoman Karine Jean-Pierre has said A US service member counts pallets of ammunition, weapons and other equipment bound for Ukraine at Dover Air Force Base, Delaware, on January 21, 2022. © Handout / US Airforce / AFP
The White House is running out of funds to finance arms deliveries to Ukraine, Press Secretary Karine Jean-Pierre has said, urging Congress to approve US President Joe Biden's request for more aid that has been stonewalled by Republicans.
Speaking to reporters aboard Air Force One on Friday, the spokeswoman said that the Pentagon had announced new arms deliveries for Ukraine. The latest package, which is worth $425 million, includes HIMARS and NASAMS missiles, artillery rounds, and other military equipment.
Of this sum, $300 million was from the Ukraine Security Assistance Initiative (USAI), which the Pentagon uses to contract new equipment for Kiev. The remaining $125 million came from the Presidential Drawdown Authority (PDA), which allows the Biden administration to transfer weapons from US stocks without congressional approval in case of an emergency.
Jean-Pierre noted that this package "exhaust[s] the remaining USAI funds currently available to support Ukraine." She added that while the White House still has PDA authorities to "fulfill Ukraine's immediate battlefield needs," the US is starting to provide Kiev with "smaller PDA packages in order to stretch out our ability to support Ukraine for as long as possible."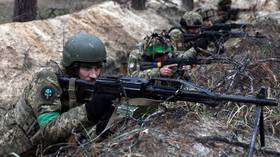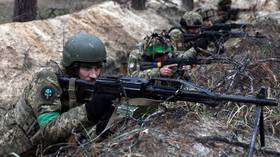 Read more
West probing Kiev for concessions to Russia – NBC
With this in mind, she urged Congress to approve Biden's supplemental aid request and send "an important message" to the world that the US continues to stand with Ukraine.
Last month, the Biden administration asked US lawmakers to greenlight a security package to the tune of more than $100 billion, including $61.4 billion for Ukraine, and $14.3 billion for Israel. But some Republicans have opposed aid to Ukraine, accusing Biden of lacking a strategic vision for the conflict and insisting on more accountability. They have also insisted that the issues of aid to Israel and Ukraine be treated separately.
On Thursday, the GOP-controlled House of Representatives passed a bill on aiding Israel in its conflict with Hamas, to which Democrats voiced strong opposition, with some accusing their colleagues across the isle of politicizing the issue. Another provision listed in the legislation included defunding the Internal Revenue Service (IRS), also a non-starter for Democrats.
Meanwhile, Mike Johnson, the newly installed House speaker, has yet to reveal his plans for Ukraine funding, vowing that the relevant discussions "will come in short order."
Russia has repeatedly warned the West against sending weapons to Ukraine, arguing that doing so only prolongs the conflict while making it a direct participant in the hostilities. (RT)
Azərbaycan24 sosial şəbəkələrdə