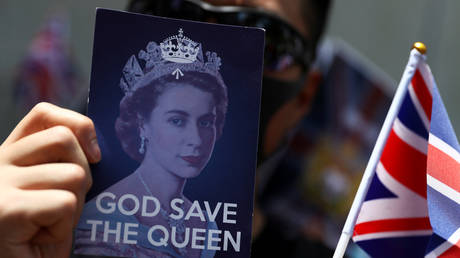 If Beijing imposes its new national security law in Hong Kong, Britain will extend a path to citizenship to almost three million eligible residents of the city, Prime Minister Boris Johnson has pledged.
There are some 350,000 people living in Hong Kong who currently hold British National (Overseas) (BN(O)) passports, while some 2.5 million are eligible to get one. The document grants effective permanent residency and the right to work to its holders and "could place them on a route to citizenship," if China delivers on its plan and ramps up security in the autonomous city, British Prime Minister Boris Johnson wrote in the Times on Wednesday.
Also on rt.com Chinese parliament passes national security bill amid raging Hong Kong protests
Britain would "have no choice but to uphold our profound ties of history and friendship with the people of Hong Kong," should Beijing's new national security plan come into force, he said.
BN(O) passports have been issued to permanent residents of the former British colony and their children since 1987, a decade before Hong Kong was transferred back under Beijing's sovereignty. At the moment, it allows visa-free access to Britain for periods of up to six months.
Johnson confirmed what other members of his cabinet, including Foreign Secretary Dominic Raab, already told the public. The prime minister said the planned change would be "one of the biggest changes in our visa system in history."
Also on rt.com 'Sanctions can't solve problems': EU rules out punishing China over Hong Kong
While the potential number of new citizens suggested by Johnson amounts to almost three million – more than a third of Hong Kong's total population – Raab earlier said the government expected up to several hundred thousand people to take the offer.
Some other top officials said their nations may welcome Hong Kongers, who would choose to leave the city rather than live under new security rules. US Secretary of State Mike Pompeo said last week that Washington was "considering" welcoming the "entrepreneurial creativity" of Hong Kongers in his country. (RT)