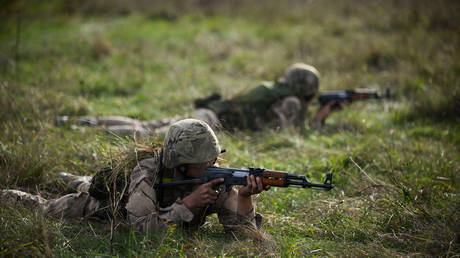 About 2,000 'commandos' would enter the fray in a bid to recapture the Crimean Peninsula "before Christmas," Sunday Express claims A Ukrainian recruit aims an unloaded AK-47 rifle during a combat training course with the UK armed forces in southern England on October 11, 2022. © Daniel LEAL / AFP
British instructors are training an elite Ukrainian unit that is supposed to help Kiev retake Crimea, the Sunday Express has claimed, citing sources. Ukrainian officials have been talking for months about plans to take back the Russian peninsula during its much-hyped counteroffensive, which has so far failed to live up to expectations in the West.
According to the report, more than 2,000 Ukrainian soldiers comprising "an elite commando brigade" arrived at a training camp in Devon in southwest Britain to prepare for an attack that is supposed to "recapture Crimea before Christmas."
The brigade is expected to "form the tip of the spear" and will be supported by two other forces, the tabloid's sources claimed. The Express also noted that the operation would involve combined strikes from air, land, and sea, with Kiev's armored formations attempting to breach Russian defenses while being backed by long-range attacks using Western-supplied missiles.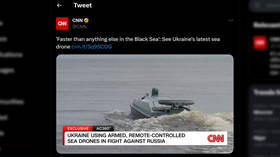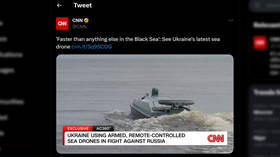 Read more
CNN showcases 'Ukrainian drones that attacked Crimean Bridge'
An unnamed senior defense source told the paper that UK instructors aim to teach Kiev's troops how to use NATO tactics to "shape the battle space" before committing forces for a decisive thrust.
Ukrainian President Vladimir Zelensky outlined Kiev's ambition to reclaim Crimea through a major counteroffensive back in late April. However, when Ukraine launched its push against Russian lines in the early days of June, it failed to gain any ground and suffered heavy casualties, according to Moscow.
Despite apparent problems with the counteroffensive, Kirill Budanov, the head of Ukraine's Main Directorate of Intelligence, claimed on Saturday that Kiev would take Crimea "soon," without giving an exact timeline. Last year, he already predicted that this would happen in the spring of 2023, a projection that failed to come true.
Meanwhile, in March former Russian President Dmitry Medvedev warned that, should Ukraine attempt to seize back Crimea, Moscow could resort to "all means of protection," including its nuclear arsenal.
The Crimean Peninsula overwhelmingly voted to rejoin Russia in a public referendum in 2014 following a Western-backed coup in Kiev. Neither Ukraine nor Western countries have recognized its results. (RT)
Azərbaycan24 sosial şəbəkələrdə