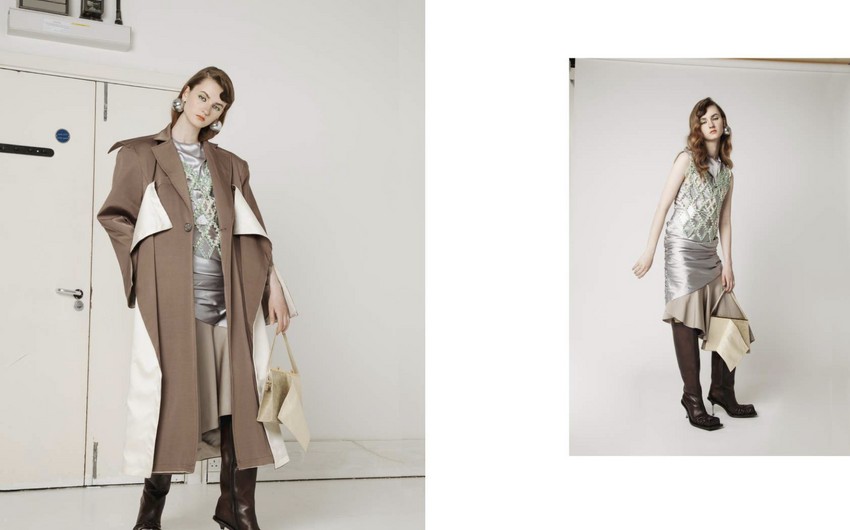 Azerbaijani designer Fidan Novruzova has spoken about the launch of her debut womenswear collection, throwing a reference to her already wildly popular footwear, Report informs, referring to Novruzova's interview with the UK i-D magazine.
Since their first appearance in Fidan's BA collection at Central Saint Martins, the coveted shoes — chunky, creased-toe boots and mules in rich ombré-ed colorways — have been worn by the likes of Sevdaliza, Celeste, and K-pop star CL.
Fidan's heritage has played a central role in her designs, going all the way back to her BA collection, which told the story of her family's move from the South Caucasian countryside to large Soviet cities, like Chișinău, Moldova, during the First Nagorno-Karabakh War in the early 90s. Textiles — crafted from vintage tablecloths or patchworked from charity shop-sourced ties — are one way Fidan embodied this transition from rural domesticity to the pragmatism of big city life.
Fidan is big on this kind of subtle symbolism throughout her work, and her AW21 offering is no different. 'For this collection, I've been listening to a lot of Azerbaijani music from the 70s and 80s, and I've been fascinated by these glamorous singers, the beautiful music, the hair, the sets. I've been really fascinated by this whole concept of stardom in general.'
A quite literal interpretation of that notion, two blouses from the designer's latest offering are cut with a glam, star-shaped neckline. A top and skirt combo feature 3D crocheted gardens filled with grapes and pomegranates, the traditional symbols of Moldova and Azerbaijan, respectively. A pair of earrings draws from the shape of the ghaval, an Azerbaijani instrument similar to the tambourine; the jewels' black enamel interior is a nod to the city of Naftalan's crude oil baths, famous for their healing properties.
This merging of tradition with modernity, old with new, or, as Fidan calls it, 'a retro-futuristic post-Soviet aesthetic' also weaves its way through her design concepts.