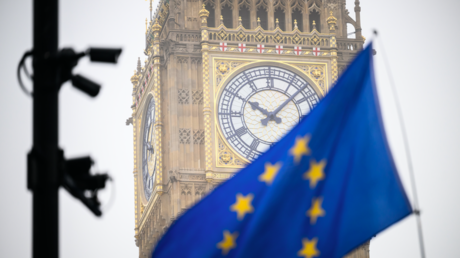 London has discussed Brexit's failings as it grapples with the fallout of its decision to leave the EU, reports The Observer An EU flag is seen flying in London as protestors campaign against the ongoing impacts of Brexit on January 25, 2023 © Getty Images / Leon Neal/Getty Images
High-ranking officials from opposite ends of the UK political spectrum have held 'secret' discussions designed to navigate a path out of various economic and strategic problems posed by Brexit, according to a report by The Observer.
Documents from the meeting obtained by the British newspaper say that the talks were held under the primary topic: "How can we make Brexit work better with our neighbours in Europe?"
The newspaper quoted a source who stated it to have been a "constructive meeting" which discussed at length economic problems presented by Brexit which come at a time of rising inflation and energy prices.
"The main thrust of it was that Britain is losing out, that Brexit is not delivering, our economy is in a weak position," the source said.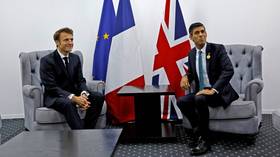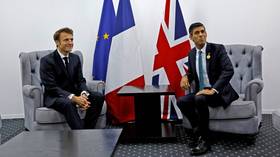 Read more
UK has secret plans for EU – Bloomberg
The summit, which reportedly took place on Thursday and Friday, was attended by members of both the 'Leave' and 'Remain' campaigns, including senior Tory Michael Gove and several members of Keir Starmer's Labour shadow cabinet. It also included figures from investment banking company Goldman Sachs and Angus Lapsley, the NATO assistant secretary general for defense policy and planning.
Gove, who was a central voice in the 'Leave' movement in 2016, is also understood to have been "honest" about problems presented as a result of the vote, though he maintained a position that Brexit will prove to be a good choice long-term.
The documents detailing the summit also said that "rejoining the EU will not be on the agenda" but noted that the UK and EU share common goals when it comes to the energy and technology sectors, the relationship with Washington, and "containing Russian aggression". They also raised questions about the benefits of closer links between the UK and the 27-member European bloc.
The Northern Ireland protocol, which aims to prevent a hard border between Northern Ireland and the Republic of Ireland without affecting trading ties between the UK and EU, is currently a central issue in Brussels and was also prominently discussed at the summit, The Observer wrote. The matter remains unresolved several years after Brexit came into effect.
The nature of the talks reflects wider concerns from within the UK political ecosystem that Brexit will continue to damage the UK economy, as well as its strategic influence across the globe. The Office for Budget Responsibility has predicted that Brexit will reduce the UK's GDP per capita by a factor of 4% over 15 years from 2016. (RT)
Azərbaycan24 sosial şəbəkələrdə