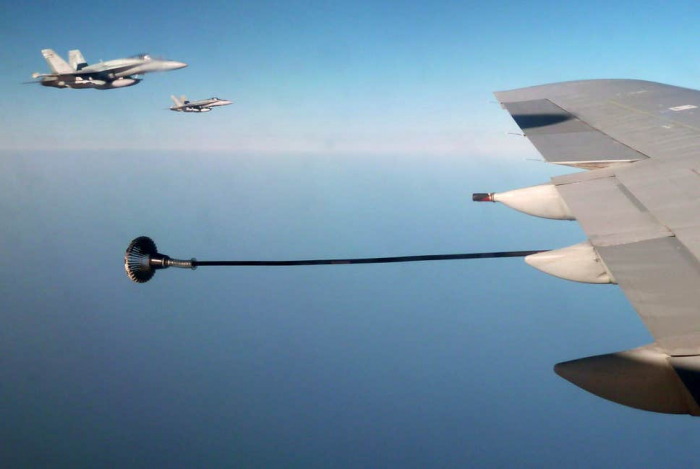 The government has put the brakes on the sale of British defence giant Cobham to a US private equity firm, ordering an investigation into the £4bn takeover on national security grounds.
Business Secretary Andrea Leadsom has given the Competition and Markets Authority (CMA) until 29 October to scrutinise the deal and report back on whether it should be given the green light.
"The government's goals are to support private sector innovation whilst safeguarding the public interest," Ms Leadsom said.
The intervention comes after the offer by Advent International to buy Cobham – known as a pioneer of air-to-air refuelling technology – was accepted by 93 per cent of the UK firm's shareholders on Monday. That was well above the 75 per cent approval required.
The proposal had met with staunch opposition from Lady Nadine Cobham, whose late husband Michael ran the business.
She had called for the government to step in and on Wednesday welcomed the move by Ms Leadsom: "I'm delighted that the government has listened to the wide-spread concerns about this takeover offer and the risk it poses to high-tech jobs and our national security."
Cobham employs around 10,000 people, 1,700 of them in Britain.
After the CMA concludes its report, it will be up to Ms Leadsom to decide whether to allow the deal or whether it should be investigated further.
Neil Wilson, chief market analyst for Markets.com, said the sale of Cobham has been thrown into doubt by the government's intervention.
"This was always a risk as regulators and politicians are more sensitive to foreign takeovers," he said.
The UK government may be particularly sensitive to foreign takeovers of industry leaders, such as Cobham, while the Brexit debate rages on, as an analyst suggested in relation to another such recent proposal. The operator of the Hong Kong stock exchange has offered to buy the London Stock Exchange (LSE) Group and, although rebuffed, it vowed to continue courting LSE shareholders.
UK ministers may also be reluctant to let Cobham fall into foreign hands given its role in military aircraft, advanced naval vessels, satellites and military vehicles.
Cobham shares showed limited reaction to the news of the investigation, holding on to the gains spurred by the offer from Advent in July. This suggests the market does not think the government will end up blocking the deal, said Mr Wilson at Markets.com.
But he added: "I think the risk of the government preventing this deal going through is higher than the market is indicating."
The Independent
Azərbaycan24 sosial şəbəkələrdə