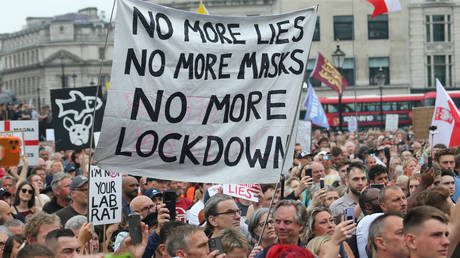 The government's Counter Disinformation Unit allegedly used AI to monitor and silence doctors, activists, and other opponents © Getty Images / Tayfun Salci
The UK government denied secretly monitoring the social media activity of critics of its lockdown policies in a statement on Saturday, insisting its controversial Counter Disinformation Unit merely tracked "narratives and trends" – not individuals.
Documents obtained by The Telegraph via Freedom of Information and data protection requests showed the CDU had in fact flagged dozens of dissidents' comments related to the government's Covid-19 restrictions, even tracking them down with the help of an artificial intelligence algorithm.
The government disagreed. "None of the people named in this report were ever referred to social media platforms by the government and any claim otherwise is objectively false," a spokesman told the Telegraph.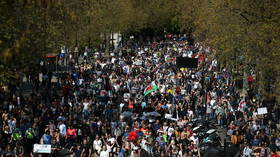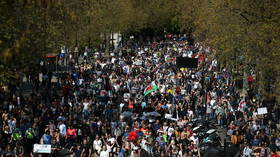 Read more
UK military spied on lockdown critics – media
Those allegedly targeted, according to the documents, included Molly Kingsley, whose children's advocacy group 'UsForThem' had campaigned against closing schools during the pandemic; London School of Hygiene and Tropical Medicine research fellow Alexandre de Figueiredo, who spoke up against mass-vaccinating children for Covid-19; and Carl Heneghan, the director of Oxford University's Centre for Evidence-Based Medicine.
The CDU "has never tracked the activity of individuals and has a blanket ban on referring journalists and MPs to social media platforms," the government spokesman insisted. Neither Heneghan, de Figueiredo, nor Kingsley are MPs or journalists.
Like the US government's controversial communications with Big Tech companies as revealed in the Twitter Files, the CDU's parent Department for Culture, Media and Sport enjoyed "trusted flagger" status on Facebook, Twitter, and other major platforms.
While the individuals reportedly targeted by the unit regularly experienced censorship on social media, officials denied they had specifically asked for posts from Heneghan, de Figueiredo, or Kingsley to be removed. However, comments about the dangers of vaccine passports, the unscientific nature of restrictions like the "rule of six," and the accuracy of reported Covid-19 death data were flagged or deleted.
Former cabinet minister Jacob Rees-Mogg told the Telegraph the government's Covid inquiry should examine the CDU and "the oppressive methods [they] used to override dissent," acknowledging "underhanded methods may have been employed to stop free speech."
"The very concept of 'wrong information' dictated by a central authority is open to abuse and should be considered far more critically, lest we mirror Chinese-style censorship," Silkie Carlo of civil liberties advocate Big Brother Watch warned.
An anonymous Whitehall source countered that disinformation, "much of which is spread by hostile states," was a real threat to "UK national security," complaining the China comparison was "just plain wrong."
The CDU was not alone in surveilling British citizens concerned about creeping authoritarianism during the pandemic. The Ministry of Defense's secretive 77th Brigade compiled dossiers on anyone with a sizable following who questioned the government's Covid-19 policies, according to a whistleblower who worked for the unit. (RT)
Azərbaycan24 sosial şəbəkələrdə