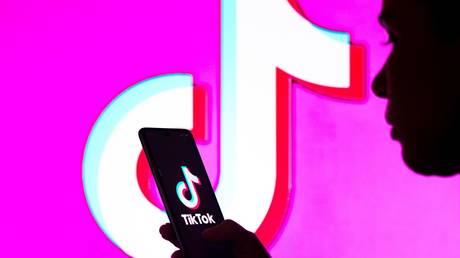 The move is in line with what the US, Canada, and the EU are doing, according to an official statement FILE PHOTO © Rafael Henrique / SOPA Images / LightRocket via Getty Images
The UK has banned the social media app TikTok from being installed on government electronic devices, following in the footsteps of similar restrictions in other Western nations. London claims that the service poses a potential security threat.
"The security of sensitive government information must come first," Chancellor of the Duchy of Lancaster Oliver Dowden said, as quoted in the government's announcement of the ban on Thursday. He described the prohibition as "a prudent and proportionate step following advice from our cyber security experts."
The government cited similar decisions by officials in the US, Canada, and the EU to show that its new policy was in alignment with those of fellow Western nations. Washington and its allies claimed that TikTok, a popular app for sharing short videos, likely "spies" on its users on behalf of the Chinese government. The service is owned by the Chinese company ByteDance, which has denied such allegations.
Skeptics say the pushback is due to TikTok becoming the first non-Western social media platform to gain such traction in those nations. They argue that TikTok's collection of user data, which critics find suspicious, is not unlike what US tech giants do via their services.
Britain will allow exceptions for running TikTok on government devices for "work purposes" on a case-by-case basis, the statement said. The use of "other data-extracting apps" is under review, Dowden added. (RT)
Azərbaycan24 sosial şəbəkələrdə