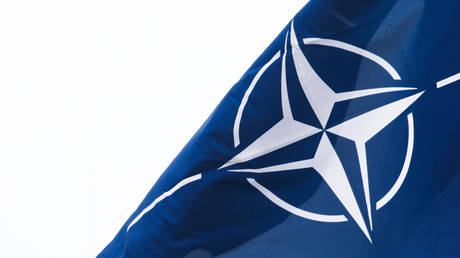 Slovakia's and Hungary's PMs pointed to corruption in Kiev and argued that the bloc's support wasn't working, the outlet said © Getty Images / NurPhoto
The prime ministers of Hungary and Slovakia opposed a €50 billion ($52.8 billion) aid package for Ukraine during the European Union summit on Thursday, Politico reported, citing an unnamed diplomat.
Hungarian Prime Minister Viktor Orban reportedly argued that the bloc's support for Kiev isn't working, while Slovak Prime Minister Robert Fico referred to concerns over corruption in Ukraine.
On Friday, Orban told Kossuth Radio that the EU's strategy for Kiev "has failed" because Ukrainians will not win on the front lines and Russian President Vladimir Putin will not go away.
Fico, who on Wednesday became Slovakia's prime minister for the fourth time, campaigned on a pledge to end military support for Ukraine and criticized sanctions on Russia.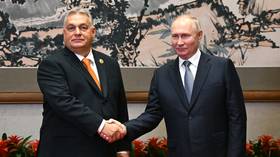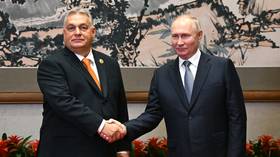 Read more
NATO envoys hold 'emergency meeting' over Putin-Orban talks – media
Commenting on the EU summit, Fico wrote on Facebook that "Slovakia will have its own opinion in Brussels from today." He also noted that he had informed European Commission President Ursula von der Leyen that "the new Slovak government will not support Ukraine militarily," and will focus only on humanitarian aid.
Following Fico's appointment as prime minister, Orban has gained an apparent ally in his stance against Brussels over the Ukraine conflict. Last week, the Hungarian prime minister met with Russian President Vladimir Putin. The move prompted an "emergency meeting" of NATO envoys in Budapest over "deepening relations" between the EU state and Moscow.
Speaking to the press after arriving for a summit of EU leaders in Brussels on Thursday, Orban insisted he was proud to have good relations with Moscow, adding that while most bloc members were pursuing a "war strategy," Hungary had a "peace strategy."
Securing Western support has also become more challenging for Kiev, whose counteroffensive is "six to nine months behind schedule," according to Mikhail Podoliak, a senior adviser to Ukrainian President Vladimir Zelensky.
Since October 7, when the Hamas-Israel conflict escalated violently, Ukraine has faced potential competition for aid and attention from the West. As President Joe Biden's administration struggles to win approval from US lawmakers for additional military and economic aid to Ukraine, this week a group of Republican senators introduced a bill to split aid to Israel from the money for Kiev. Senator Roger Marshall, who is sponsoring the legislation, argued that help for Israel should not be used as leverage to send tens of billions of dollars to Ukraine. (RT)
Azərbaycan24 sosial şəbəkələrdə