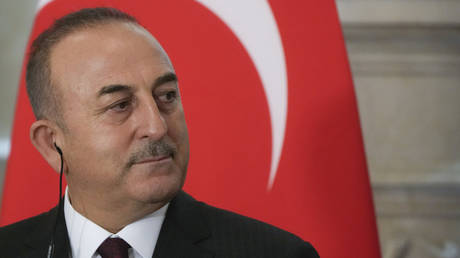 Ankara holds the keys to the bloc's enlargement, but Foreign Minister Mevlut Cavusoglu will skip the gathering in Oslo Turkish Foreign Minister Mevlut Cavusoglu listens during a press conference in Cairo, Egypt, March 18, 2023 © AP / Amr Nabil
Türkiye's Mevlut Cavusoglu will not attend a meeting of NATO foreign ministers in Oslo this week, Swedish Foreign Minister Tobias Billstrom said on Wednesday. Cavusoglu's absence means no immediate progress will be made on Sweden's bid for NATO membership, despite Stockholm's insistence that it is now ready.
Billstrom told Reuters that he had hoped to meet Cavusoglu in the Norwegian capital, but that the two would talk at a later date as part of an agreement they signed last year in Madrid.
This agreement, Billstrom said, "is much more important than two ministers sitting down and drinking coffee."
Sweden, Finland, and Türkiye agreed last year that the two Nordic nations would lift arms embargoes on Türkiye, extradite alleged Kurdish and Gulenist terrorists, and crack down on the activities of the Kurdistan Workers' Party (PKK) within their borders, in exchange for Ankara lifting its veto on their accession to NATO.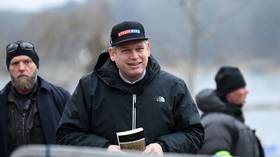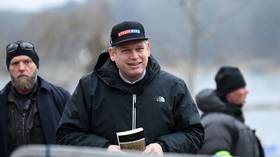 Read more
Sweden bans Koran burning protest
Accession to the US-led bloc requires the unanimous consent of all existing members. Türkiye signed off on Finland's bid in March, after it passed stringent anti-terrorism legislation, while Billstrom said that similar legislation entering into force in Sweden this week should satisfy Ankara's demands.
Billstrom has also said that "there is a high expectation that we will be a member" before NATO leaders meet for their annual summit in the Lithuanian capital of Vilnius in July. This week's meeting in Oslo is the only NATO gathering scheduled before the Vilnius summit, giving Billstrom and Cavusoglu six weeks to work out whether Sweden's new law is enough for Ankara to lift its veto.
Apart from Türkiye, Hungary is the only NATO member that has not ratified Sweden's membership application. Budapest has cited Stockholm's support for legal action against its conservative LGBT and migration policies as the key factor behind the impasse. (RT)
Azərbaycan24 sosial şəbəkələrdə