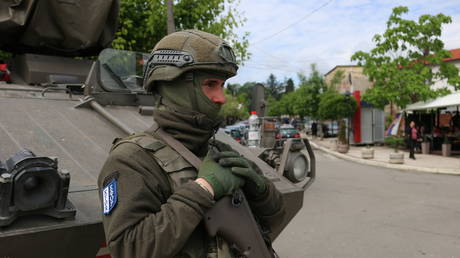 The breakaway Serbian province has been hit by widespread unrest following elections in April NATO-led International Military Mission to Kosovo (KFOR) increase the security measures in Zvecan on June 02, 2023 © Getty Images / Erkin Keci/Anadolu Agency via Getty Images
Türkiye's Defense Ministry announced on Saturday that it will deploy a commando battalion to Kosovo at the request of the NATO Joint Force Command. Ankara said its troops will help quell tensions in the Serbian breakaway province's north, which have intensified since ethnic-Albanian mayors were elected in the region's Serb-majority area.
"Our country closely follows the developments in the Balkans, where we have common historical and cultural values," the ministry said on Saturday.
The statement added that Ankara is taking a "constructive stance" towards the "resolution of the recent events in the friendly and brotherly northern part of Kosovo, which harm regional security and stability."
Belgrade and Pristina have both come under international pressure to resolve what is the latest in a long line of disputes between Kosovo's ethnic-Albanian-dominated government and ethnic Serbs in the north. There was violence in the region this week when Kosovo authorities, with assistance from police units, oversaw the installation of ethnic-Albanian mayors into office in northern municipalities.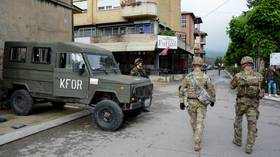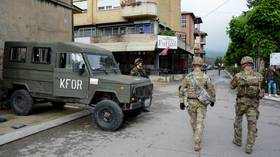 Read more
EU leaders call for new elections in Kosovo following clashes
The mayors were elected in April polls which saw a turnout of around 3.5%, after Serbs boycotted the vote in protest at demands for autonomy from Pristina not being met. Serbian President Aleksandar Vucic this week called on Kosovo authorities to withdraw what he called the "alleged mayors" to help defuse the situation.
In late May, NATO said it was to send 700 extra troops to Kosovo, after a May 30 incident in which Serb demonstrators injured at least 30 NATO troops. A total of 52 Serbs were also reported to have been injured.
In 1999, NATO conducted a three-month bombing, allegedly on humanitarian grounds, against Serbia and on behalf of ethnic-Albanian separatists during the Kosovo War. The newly established government in Pristina declared its independence in 2008, despite the terms of UN Security Council Resolution 1244 underscoring Serbia's territorial integrity.
Numerous countries, including Russia, China and India support Belgrade's refusal to accept the secession. Kosovo's independence has, though, been recognized by about 100 countries worldwide.
On Tuesday, Russian Foreign Ministry spokesperson Maria Zakharova criticized NATO forces for inflaming the situation in Kosovo. "[The NATO Kosovo Force] not only demonstrated their lack of professionalism, but also became a source of unnecessary violence and an escalation factor," a statement appearing on the ministry website said. (RT)
Azərbaycan24 sosial şəbəkələrdə