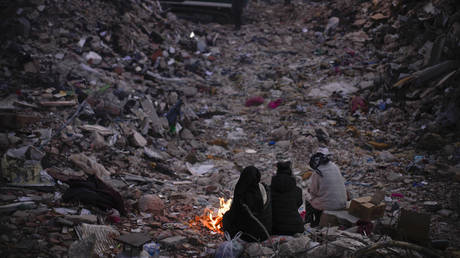 The EU has offered to help cover a small fraction of the reconstruction efforts following quakes that left more than 50,000 dead FILE PHOTO: Members of a family keep warm next to a fire as they follow a rescue team searching for survivors after a major earthquake in Antakya, Turkey, February 15, 2023. © AP / Francisco Seco
Turkish President Recep Tayyip Erdogan has estimated that devastating earthquakes which struck the region in February inflicted around $104 billion in damage in Türkiye alone, appealing for assistance from abroad while saying that no country is capable of handling such a disaster on its own.
Addressing an international gathering of aid donors for both Türkiye and Syria, which was also affected by the tremors, Erdogan gave some idea of the massive damage done by the February 6 quakes, saying that his country would aim to rebuild some 319,000 homes just over the next year.
"More than 51,000 people became victims of the earthquakes, more than 105,000 were injured. According to preliminary data, the damage from them exceeded $104 billion," the president told the Brussels-based conference on Monday. "It is not possible for a single nation to tackle a crisis of this scale on its own. We will never forget the solidarity that all our friends… have shown in these difficult days."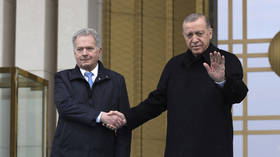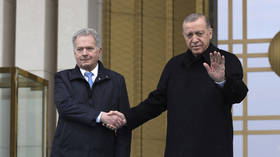 At the same event, European Union Commission head Ursula von der Leyen said the body would provide €1 billion ($1.07 billion) to aid Türkiye's rebuilding efforts, and another €108 million ($115 million) for humanitarian aid in Syria, where around 6,000 were killed in the quakes.
The UN Development Programme (UNDP) offered a similar estimate for the damage in Türkiye, saying the country would have to cobble together at least $103.6 billion to rebuild destroyed homes and infrastructure, or 9% of its 2023 GDP forecast. Other agencies of the UN have appealed for relief money following the disaster, hoping to raise $397 million for Syria and a further $1 billion for Türkiye, though the latter project had only reached around 10% of its goal as of March 6, according to UN Resident Coordinator Alvaro Rodriguez. The Syrian fund has raised about half of its target.
Moscow has also assisted in rescue and rebuilding projects, sending first-responders to the region in the immediate aftermath of the quakes along with heavy equipment to help clear away rubble and search for victims. Both Russian and Syrian officials were excluded from Monday's donor conference, however, amid growing tensions between Moscow and Western nations over the conflict in Ukraine, as well as outstanding disputes with Damascus related to its civil war with rebel insurgents. The EU maintains extensive sanctions on both countries, and said it would only provide funds for early recovery efforts in Syria, but not long-term reconstruction, so long as there is no dialogue with the Syrian government. (RT)
Azərbaycan24 sosial şəbəkələrdə