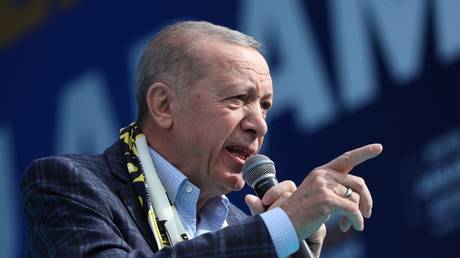 Ahead of a crucial election this month, the incumbent president argued that only his party can protect family values Recep Tayyip Erdogan delivers a speech during an election campaign rally in Ankara, Türkiye, April 30, 2023 © AFP / Adem Altan
Turkish President Recep Tayyip Erdogan has accused his political rival, Kemal Kilicdaroglu, of being "LGBT," ahead of next week's elections. Erdogan's government views LGBT ideology as an American and European "religion," alien to Turkish morals.
"We know that Mr. Kemal is an LGBT person," Erdogan told a rally in the city of Giresun on Thursday. "CHP is LGBT, IYI party is LGBT, HDP is LGBT," he continued, listing off the political factions in Kilicdaroglu's six-party National Alliance bloc.
"As the People's Alliance, we are against this," he declared, referring to his own political bloc. "Family is sacred to us. A strong family means a strong nation. No matter what they do, God is enough for us."
Erdogan has accused Kilicdaroglu and his allies of being pro-LGBT before, and made the same speech almost word-for-word at a rally in the town of Rize on Wednesday.
Kilicdaroglu is not an outspoken supporter of gay rights, but has promised to reinstate the Istanbul Convention if elected.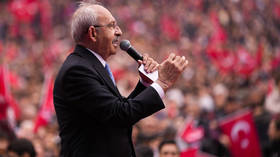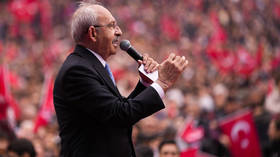 Read more
Erdogan rival plans Türkiye EU bid
Signed by 45 countries plus the European Union in 2011, the convention aimed to strengthen legal penalties for violence against women, but Türkiye withdrew in 2021, stating that it had been "hijacked by a group of people attempting to normalize homosexuality." This was likely a reference to the treaty's listing of transgender women, who are biologically male, as women.
"They are trying to…ungender the whole of our society under the name of LGBT," Turkish Interior Minister Suleyman Soylu said of Kilicdaroglu and his allies in February. "If Kilicdaroglu wants to ungender himself and his colleagues, let him do so," Soylu continued. "Family is important for us, woman is important for us, man is important for us."
In a radio interview last month, Soylu claimed that the "LGBTQ" designation "includes the marriage of animals and humans." He went on to describe LGBT ideology as a "religion," and LGBT activists as "completely under the control of America and Europe."
Kilicdaroglu has largely avoided personal attacks on Erdogan and Soylu, instead making heavy use of pro-Western rhetoric in his speeches. The 74-year-old former civil servant has promised to immediately restart EU accession talks if elected, and to implement reforms demanded by Brussels.
Opinion polls currently show Erdogan and Kilicdaroglu in a statistical dead heat.
(RT)
Azərbaycan24 sosial şəbəkələrdə