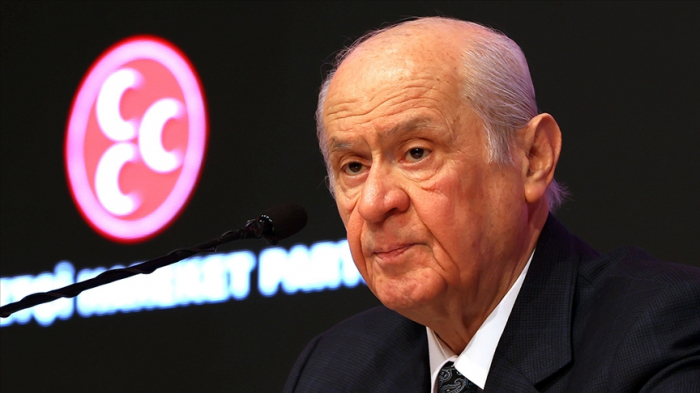 Turkey's Nationalist Movement Party (MHP) Chairperson Devlet Bahceli, has expressed a desire to build a school in Shusha, Azerbaijan in his tweet.
Devlet Bahcheli called the Karabakh victory, which marked last year, one of the greatest and most epic successes of the Turkish nation in the recent years.
"The liberation of Shusha, which is at the level of the cornerstone of Karabakh, on 8 November 2020 broke the resistance of the persecution and the terrorist state destroyed the crippled dreams of Armenia. Besides its strategic location, Shusha is such a place that it is the symbol of Turkish culture and history. The development of Shusha, which is one of the sources of Azerbaijani artistic and intellectual life, and the future of Turkish children living here are our moral responsibility. It is our duty to support the education life of this ancient Turkish city, which cannot be neglected", Bahcheli highlighted.
"If our President Recep Tayyip Erdogan gives permission, and if the President of Azerbaijan, Ilham Aliyev finds it appropriate, our goal is to build a 9-class primary school in Shusha by the Idealist Hearths Education and Culture Foundation on my personal instructions. All the possibilities we have in this regard will be mobilized and the necessary will be done immediately", he added.
Note, the territories of Azerbaijan, which was occupied by Armenia nealry 30 years ago, was liberated from the occupation during the 44-day Second Nagorno-Karabakh War.
The war started on September 27 when the Armenian Armed Forces launched a large-scale military attack on positions of Azerbaijani army on the front line, using large-caliber weapons, mortars and artillery and lasted until November 10.
Until November 10, the Azerbaijan Army liberated some villages and cities of Fuzuli, Jabrayil, Gubadli, Zangilan, Khojavend, Khojaly, Terter, Shusha and Lachin districts.
On November 10, Armenia, Azerbaijan and Russia signed an agreement to end six weeks of fierce fighting in Nagorno-Karabakh.
Under the agreement, Russian peacekeepers are being deployed along the front line in Nagorno-Karabakh and the corridor between the region and Armenia.
A total of 1,960 Russian peacekeepers are to be deployed in Nagorno-Karabakh under a five-year mandate.
Also, according to the agreement, on 20 November, Armenia handed over the Aghdam region which lies to the east of Nagorno-Karabakh, to Azerbaijan. This followed on 25 November by the Kalbajar region to the northwest of Nagorno-Karabakh.
Finally, on 1 December, Armenia handed over the Lachin District, over which the Lachin pass connecting Nagorno-Karabakh to Armenia passes.