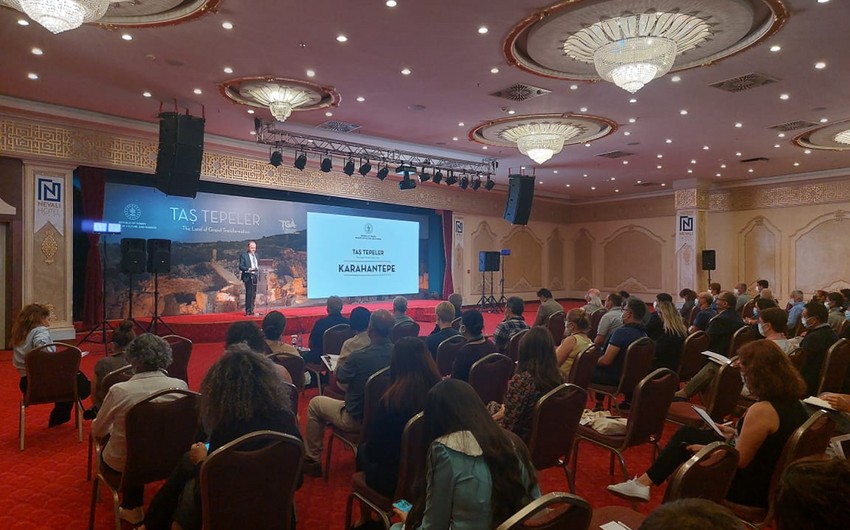 A presentation symposium "Göbekli Tepe " of an international conference dedicated to the Neolithic period, which was scheduled for 2023, kicked off in Turkey's Sanliurfa today.
Report informs that the event, scheduled to end tomorrow, is being attended by over 70 journalists from Turkey, Azerbaijan, Britain, Italy, Spain, Portugal, Germany, the United States, and other countries, as well as professors from Turkey, Canada and the UK.
The purpose of the symposium is to introduce the historical site, Göbekli Tepe, in Sanliurfa to the world. Addressing the event, Director General of Cultural Assets and Museums of the Ministry of Culture and Tourism of the Republic of Turkey Gokhan Yazgi said that the Göbekli Tepe has a history of 12,000 years and is included in the UNESCO World Heritage List as one of the ancient settlements.
According to him, archeological excavations in the area have revealed new ideas about the life of ancient people: "One of the major topics of the discussion during the excavations is how the steep rocks, weighing up to 40 tons, came to the area. This area is not close to any settlement and is far from the main sources of water. One of the main questions is why this area was chosen.
Gokhan Yazgi added that the area was discovered in 1963, but the first excavations began in 1995: "According to the initial assumption of archaeologists, the buildings discovered during the excavations were places of worship of ancient people. In the Neolithic period, Göbekli Tepe was a place, where people performed funeral rituals."
Professor Mehmet Ozdogan of Istanbul University said that the contribution of Anatolia's Neolithic period to world civilization is being realized newly: "We used to think that the history of Anatolia is not so important. However, archeological excavations and researches have proved that the Neolithic period in Turkey is of great importance and has a pivotal place in world history. The formation of the religious beliefs of the people living in the Göbekli Tepe dates back to before they acquired agricultural skills. Prior to this research, this idea was considered to be the complete opposite."
Later on, historians from a number of countries made detailed presentations on archeological excavations and archeological finds of the Neolithic period.