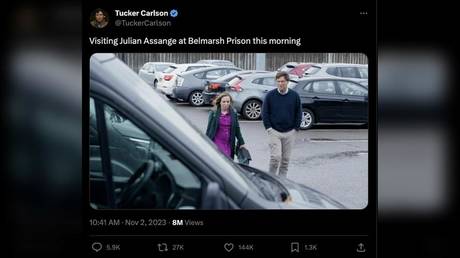 The Wikileaks publisher faces extradition to the US and a 175-year prison sentence if his final appeal fails © X / @TuckerCarlson
Former Fox News host Tucker Carlson visited Wikileaks founder Julian Assange at London's Belmarsh Prison on Thursday, Carlson revealed in a post on X (formerly Twitter) later that day.
The American journalist included a photo of himself walking with Assange's wife, Stella Moris. The post garnered positive reactions from activists who have collaborated with Wikileaks in the past, including Mega founder Kim Dotcom and former British MP George Galloway.
While Carlson did not elaborate on the nature of his visit, media commentary suggested it was an interview for Carlson's popular self-titled show on X. He previously interviewed Assange's father and brother for a Fox News segment in 2021, and again earlier this year.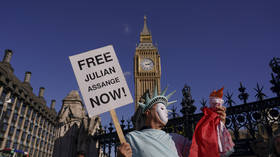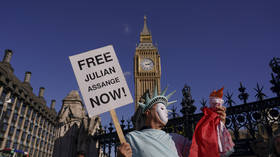 Read more
US rejects Australian plea to drop Assange case
Carlson has condemned Assange's continued incarceration as a violation of the Wikileaks founder's First Amendment rights, and said it sets a disastrous precedent for other journalists and publishers who work with classified material.
Assange has appealed his pending extradition to the US, where he faces up to 175 years in prison on charges of violating the Espionage Act. The charges stem from Wikileaks' publication of a trove of secret documents leaked by US Army intelligence analyst and whistleblower Chelsea (formerly Bradley) Manning in 2010, which dealt with the wars in Afghanistan and Iraq.
The Wikileaks publisher has been imprisoned in Belmarsh since 2019, when he was expelled from the Ecuadorian embassy in London where he had lived for seven years. Assange was granted political asylum and later Ecuadorian citizenship, both of which were revoked ahead of his arrest.
While Caroline Kennedy, the US ambassador to Australia, hinted in August that Washington might consider a plea deal allowing Assange to return to his home country if he pleaded guilty to lesser charges, legal experts have pointed out that any such deal would almost certainly require him to travel to the US for a formal admission of guilt – a condition he is unlikely to accept.
Additionally, US Secretary of State Antony Blinken has shown no signs of relenting in pursuit of the publisher, recently rejecting overtures from Canberra with the explanation that Assange's actions had "risked very serious harm to our national security, to the benefit of our adversaries, and put named human sources at grave risk of physical harm, grave risk of detention."
Members of Congress hailing from both parties have petitioned the presidential administration of Joe Biden to drop the extradition request and abandon the prosecution of Assange. (RT)
Azərbaycan24 sosial şəbəkələrdə