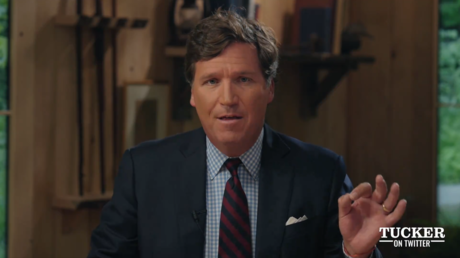 Curiosity is the "greatest crime" for US corporate media outlets, the former TV pundit said © Twitter / TuckerCarlson
Former Fox News host Tucker Carlson has released the first episode of his new series on Twitter, taking Western news agencies to task for one-sided reporting on the conflict in Ukraine and open hostility toward anybody voicing dissenting views.
Dubbed 'Tucker on Twitter,' the show's first 10-minute segment was shared on the social media platform on Wednesday night. The clip opened with a monologue on the Ukrainian attack on a major dam in Russia's Kherson region this week, which Carlson dubbed "an act of terrorism."
"Blowing up the dam may be bad for Ukraine, but it hurts Russia more, and for precisely that reason the Ukrainian government has considered destroying it," he said, going on to observe that a Ukrainian general admitted to planning attacks on the Kakhovka dam facility in comments to the Washington Post last December.
While Carlson said he had little doubt that Kiev was behind the strike, he noted that several American media outlets had already suggested that Moscow may have arranged the attack on itself, claiming they view Ukrainian President Vladimir Zelensky as simply "too decent for terrorism."
"Of all the people in the world, our shifty, dead-eyed Ukrainian friend in the tracksuit is uniquely incapable of blowing up a dam. He's literally a living saint, a man in whom there is no sin," he went on, describing the general attitude within the mainstream press.
The pundit drew comparisons to last year's attack on the Nord Stream pipelines, which were built to carry natural gas from Russia into Germany. Though Carlson argued it was "obvious" that Ukraine had carried out the sabotage, he said US media outlets had little interest in investigating, helping to make Americans among "the least informed people in the world."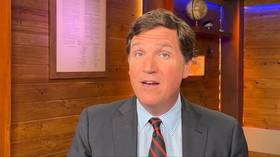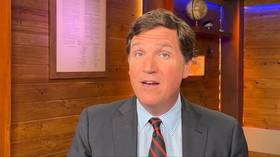 "Not only are the media not interested in any of this, they are actively hostile to anybody who is. In journalism, curiosity is the gravest crime," he continued, adding that while media outlets lie, "mostly they just ignore the stories that matter."
Carlson parted ways with Fox in April, a major shake-up for the media giant given the prominence of his prime-time program, 'Tucker Carlson Tonight.' He later announced that would move his content to Twitter, where he has released other stand-alone segments similar to his former show. In his signoff for Wednesday's episode, the host voiced hopes that Twitter would be a venue with "no gatekeepers," but vowed to leave the site should that turn out to be false. (RT)
Azərbaycan24 sosial şəbəkələrdə